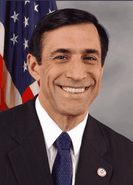 Darrell Issa is a retired Army captain, patentee, and a former business owner (Remember the "viper" car alarm). Mr. Issa is also a member of the House of Representatives (R-Orange County).
On January 12, the House passed Issa's patent court pilot program:
H. R. 34: To establish a pilot program in certain United States district courts to encourage enhancement of expertise in patent cases among district judges.
There is a strong likelihood that this $5M pilot project will be enacted into law at some point in 2007 after being passed by the Senate and signed by President Bush. According to the program, at least five district courts will have an opportunity to have additional education regarding patent cases and receive money to pay for additional law clerks who are ready to assist in patent cases.