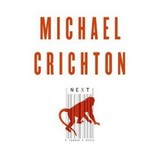 Its Patenting 101 — Patents are available for newly isolated DNA when the isolated gene is new and useful. DNA fits well within the statutory categories of both a manufacture and a composition of matter. And, although most genetic structures are derived from those found in nature, the isolated form is certainly 'made by man.'
Michael Crichton agrees that genes are being patented, but argues that such patents are really really bad. Read here from today's NYTimes Op-Ed.
YOU, or someone you love, may die because of a gene patent that should never have been granted in the first place. Sound far-fetched? Unfortunately, it's only too real. . . .

Fortunately, two congressmen want to make the full benefit of the decoded genome available to us all. Last Friday, Xavier Becerra, a Democrat of California, and Dave Weldon, a Republican of Florida, sponsored the Genomic Research and Accessibility Act, to ban the practice of patenting genes found in nature. Mr. Becerra has been careful to say the bill does not hamper invention, but rather promotes it. He's right. This bill will fuel innovation, and return our common genetic heritage to us. It deserves our support.
As the debate heats-up, Kevin Noonan is emerging as the backstop:
Writers like Dr. Crichton (particularly academics, who should know better) have created a "new vitalism;" in this philosophy DNA is "different" and patenting DNA should be prohibited. One problem with their position is its intellectual dishonesty: as Dr. Crichton does here, they accuse gene patentees of having ownership rights to "your" DNA (the DNA in the cells of a person's body). This is nonsense, since anyone familiar with this space or any other truthful description of DNA patenting knows that patented DNA must be "isolated" or "isolated and purified." In short, no one has ownership rights over "your" DNA (or mine, or Dr. Crichton's).
Read Noonan's dissection of Crichton's piece at PatentDocs.