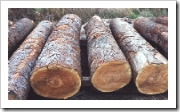 Brand v. Miller (Fed. Cir. 2007).
Both Capital Machine and Miller Veneers claim rights in a new method of cutting veneer from logs using a "tapered filch." Brand, the inventor on Capital's application now works for Miller, and the two companies had a close-relationship at the time of the applications. Capital filed its patent first, but Miller argued that Capital's invention had been entirely derived from a documents and information provided by Miller.
Derivation: In an interference, impermissible derivation requires a showing of prior conception by the junior party and communication of concepts to the senior party that would enable construction and operation of the invention. These elements are questions of fact.
In an interference, the BPAI awarded priority to Miller, finding that Miller's communications to Capital were sufficiently enabling. In its appeal to the CAFC, Capital argued that the BPAI had improperly relied upon its own experience instead of evidence in holding that the Miller communication was enabling.
Substantial Evidence of Factual Findings: Appeals from the BPAI interference decision are governed by Section 706 of the Administrative Procedures Act (APA). The CAFC's interpretation of that section requires that "findings of fact by the Board must in all cases be supported by substantial evidence in the [four corners of the closed] record." Thus, it is impermissible for the BPAI to base factual findings on its own experience as opposed to evidence on record.
Here, the court found that the board had-indeed "substituted its own expertise for record evidence" of how the information communicated by Miller would be arranged to perform the claimed method. "Under such circumstances the Board's decision was not supported by substantial evidence in the record."