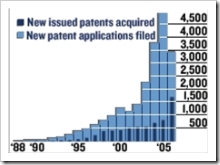 Microsoft's Brad Smith (General Counsel) and Horacio Gutierrez (Licensing) were recently interviewed in Fortune. According to the pair, open source software (FOSS) infringes at least 235 Microsoft patents. These include 42 patents infringed by the Linux kernel; 65 patents infringed by Linux GUI; 45 patents infringed by the FOSS Open Office suite; and 15 infringed by FOSS email programs.
Microsoft refuses to state which particular patents are infringed in an attempt to avoid retaliation from FOSS advocates. However, the statements certainly put Linux and its users under a dark cloud — potentially sufficient for a declaratory judgment action under MedImmune v. Genentech (2006).
Microsoft's patent filing have ramped-up significantly over the past five-years, and the company will likely top the list of new-patent-owners in the coming years.