Homan McFarling farms soybeans and other crops a few miles from my family's farm in northern Mississippi. Monsanto sued McFarling for replanting Monsanto's patented GMO soybean seeds in violation of the "Technology Agreement."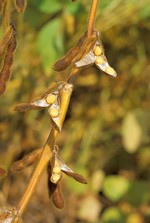 A Missouri jury found McFarling liable and awarded damages of $40 per seed-bag even though Monsanto typically charges only $6.50 license fee per seed-bag. On appeal, the CAFC found that the listed royalty rate did not provide any limit for the royalty calculation. Rather, infringement damages can properly include (a) the harm felt by Monsanto because of the infringement as well as (b) the additional benefits garnered by McFarling. In particular, these include: reputational harm due to rogue planters, potential lapses in monsanto's database of planting techniques; bargaining power; as well as McFarling's increased yield of $31 – $61 per acre.
Now, McFarling has petitioned the Supreme Court for a Writ of Certiorari with two questions (with subparts):
In determining a "reasonable royalty" under the patent-damages statute, 35 U.S.C. § 284, may the factfinder award the patentee either:
(a) a hypothetically negotiated royalty that vastly exceeds the established royalty charged in the marketplace, or

(b) a royalty that includes damages to the patentee's third-party distributors and is intended to force the infringer to disgorge his profits—even though Congress eliminated the equitable disgorgement remedy in 1946?
Do the doctrines of patent exhaustion and patent misuse permit the purchaser of a patented good to use that good and dispose of its products as it sees fit, absent a valid contract?
Mark Lemley (Stanford) is McFarling's attorney.
Notes: