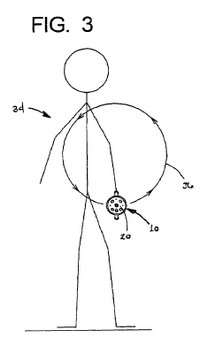 A G Design v. Trainman Lantern (Fed. Cir. 2008) (nonprecedential)
AG sued Trainman for infringement of its hand-held RR Lantern patent. (US Pat. No. 7,118,245). The W.D. Washington district court issued a preliminary injunction after hearing an expert report that Trainman's product was essentially identical to the patented device (except for one claim element).
On appeal the CAFC vacated the preliminary injunction — finding that the lower court had committed legal error in finding that the patentee had "a likelihood of success on the merits."
Legal Standard for Preliminary Relief: The CAFC nominally applies a four factor standard for determining whether preliminary relief is warranted. However, two factors are requisite and typically determinative: (a) Likelihood of success on the merits and (b) irreparable harm associated without preliminary relief.
Likelihood of Success: A likelihood of success on the merits requires some proof that the defendant "infringes at least one valid and enforceable claim" of the asserted patent. The likelihood of success may be rebutted by an accused infringer who raises a "substantial question" regarding the patent's validity, enforceability, or whether the accused device infringes the asserted claims. In a recent case, the a different panel (Judges Rader & Dyk) found the substantial question threshold met by evidence that "cast[s] doubt on the [claim's] validity." Erico Int'l v. Vutec & Doc's Marketing (Fed. Cir. 2008).
Lacking a Claim Element: Because the accused device here lacked a claim element (a 'plurality of ports' in the reflector), it could not literally infringe. Likewise, the CAFC found that the 'plurality of ports' limitation had been added during prosecution to narrow the claims — presumptively foreclosing infringement by equivalents. (Unless AG can show that the "rationale for the amendment is tangential to the equivalent in question.").
Validity Questions: The CAFC also found error in the district court opinion because the court did not specifically analyze whether a disclosed prototype included "all of the limitations of any of the asserted claims." Instead, for the purposes of the PI, the district court had only noted that the prototype was "different" from the patent claims.
Expired Non-Compete: The parties here have a history including a non-compete agreement that expired during the appeal. Because it is now expired, the CAFC found that the non-compete could not serve as a basis for preliminary relief.
Notes: