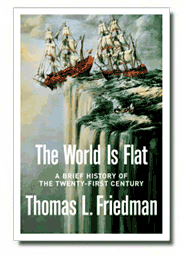 Most major companies are still trying to get their heads wrapped around the flat world concepts that Thomas Friedman presented in his 2005 bestseller. The reputational power of the internet is now driving many corporate balance sheets. The business issue: ensuring that the reputation is going right way. Certainly, this management may be a bit like herding cats: In less than five minutes, anyone with an internet connection and skills with a mouse can become an anonymous online publisher to the world without spending a dime. The impact of cheap worldwide distribution is multiplied by a seeming societal shift away from a desire for privacy, away from strong employee loyalty, and away from a respect for intellectual property in favor of free speech and free software.
Cisco Systems found itself in the midst of a potential reputation firestorm when the popular anonymous blogger known as the Patent Troll Tracker (PTT) revealed himself as a Cisco IP Director Rick Frenkel. The PTT blog focused on patent enforcement companies — so called patent trolls — that have sued major technology companies such as Cisco, Microsoft, Sprint, and others. Frenkel and Cisco have been accused of defaming two Texas plaintiffs attorneys and have also been accused of a stealth anti-patent lobbying campaign. (Cisco is a major part of the "Coalition for Patent Fairness" — an organization lobbying for weaker patent rights).
One way that Cisco can emerge as a publicity winner is to promote and encourage employee publication and free speech. Cisco appears to be taking this road. I discussed the Frenkel case with a Cisco spokesperson today who indicated that Cisco is defending against the lawsuit; that Cisco is "committed to supporting [its] employees and their right to online expression"; and that Frenkel will certainly be allowed to continue blogging while a Cisco employee.
The internet's ease of anonymity is in tension with the prevailing blog notion of transparency. The problem with anonymous corporate blogs is the potential for customer backlash when they discover the true content provider. The other major problem with anonymous publication is the tendency of anonymous authors to become reckless authors. (See, e.g., anonymous Patently-O comments). Cisco's new employee publishing policy takes these issues into consideration. The policy: No anonymous blogging or comments on issues associated with your Cisco job.
"If you comment on any aspect of the company's business or any policy issue the company is involved in where you have responsibility for Cisco's engagement, you must clearly identify yourself as a Cisco employee in your postings or blog site(s) and include a disclaimer that the views are your own and not those of Cisco. In addition, Cisco employees should not circulate postings that they know are written by other employees without informing the recipient that the source was within Cisco."
I disagree with many of Cisco's patent reform suggestions, but I admire the way the company is handling this issue.
Notes:
Interested in a workshop on Corporate Blog Policies?