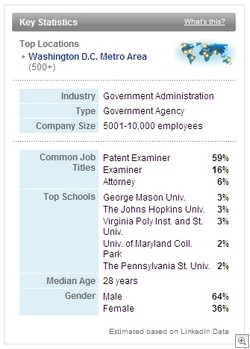 The social networking site LinkedIn has created a profile of USPTO employees (Based on LinkedIn members). In their data, the most common career path is from ASRC (a major Gov't Contractor) to the USPTO; then to Bingham McCutchen. Folks leave Bingham for Perkins Coie and Goodwin Procter. From there, they branch out to Ropes & Gray, Foley Hoag, Microsoft, Amazon, Expedia, Wilson Sonsini, and Google.
With all this job-hopping, LinkedIn helps me keep track of patent law folks I have met along the way (even after we change jobs and move across the world).
Apparently, a LinkedIn membership is required before viewing the full employee profiles.