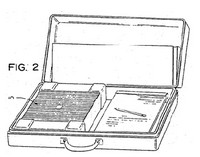 Computer Docking Station v. Dell (Fed. Cir. 2008)
More than any other patent litigation issue, a winning claim construction argument needs to do more than simply convince the district court judge. Rather, the best argument will both convince the district court judge and will also teach that judge how to write a claim construction opinion that holds up on appeal.
Limiting Preamble: CDS's patent was filed in 1991 and includes the claim preamble: "portable computer." In interpreting that preamble term, the CAFC found that it must be limiting because statements in the specification and prosecution history emphasize portability, but the portability limitation is not found in the claims.
"The written description and applicants' statements during prosecution emphasize this feature of the invention, yet this limitation does not appear in the body of the claims. As a result, this court finds that the terms "portable computer" and "portable computer microprocessing system" limit the scope of the asserted claims."
Disavowal of Claim Scope: The CAFC also found that CDS had, through its statements in the specification and during prosecution, disavowed coverage of a laptop computer device that included an attached keyboard and screen. In claim scope disavowal, the court always looks for a linguistic hook in the claims. Here, it relied again on the "portable computer" preamble term — finding that the patentee had disavowed coverage of portable computers that included those features.
Attachable features: In several figures, the patentee showed how a keyboard and screen could be coupled with its device. However, the CAFC noted that those attachments were only temporary and did not become part of the portable computer. "Thus, a cable connects the physically separate keyboard to the main housing. The keyboard is neither built-in nor attached."
Exceptional Case: The patentee is not liable for attorney fees because this is not an 'exceptional case' under 35 USC 285. In particular, the court noted that it was not "self-evident" at the beginning of the claim construction analysis that laptop coverage had been disavowed. (Of course, this finding cuts directly against the finding that the public was on notice of a clear disavowal of claim scope)