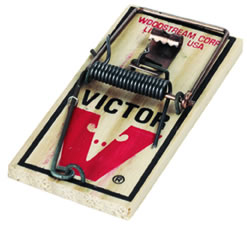 Agrizap v. Woodstream Corp (Fed. Cir. 2008)
Agrizap holds a patent covering a method of electrocuting rats and gophers. The product is sold under the trade name "Rat Zapper." Woodstream (maker of the Victor rat trap) first licensed the product then began manufacturing its own version.

The jury found the patent nonobvious and held Woodstream liable for both infringement (and for fraud based on its actions during the license.) In a post-verdict decision, the district court granted JMOL of non-infringement.
On appeal, the CAFC (Judge Moore) zeroed-in on the question of obviousness:
"[A]s the ultimate conclusion of obviousness is a question of law, it remains our duty as the appellate court to ensure that the law has been correctly applied to the facts. . . . In other words, we review de novo the conclusion on obviousness . . . [keeping in mind] that '[t]he combination of familiar elements according to known methods is likely to be obvious when it does no more than yield predictable results.'" (Quoting KSR v. Teleflex, 127 S. Ct. 1727, 1739 (2007)).
Here, the CAFC found, as a matter of law, that Agrizap's own commercial product (the "Gopher Zapper") rendered the claimed invention obvious. The only difference between the two was the type of trigger mechanism, and the Rat Zapper's claimed electrical switch was already well known in the cattle-prod art.
Secondary Considerations: When faced with a mere combination of familiar elements, even strong secondary evidence of nonobvious will not save the application. Here, Judge Moore took as true "the commercial success of the Rat Zapper, copying by Woodstream, and a long felt need in the market for electronic rat traps." However, that evidence is "insufficient to overcome the overwhelming strength of Woodstream's prima facie case of obviousness."
Notes:
Judges Bryson, Moore, and Wolle (S.D.Iowa).
This case should be contrasted with Ortho-Mcneil v. Mylan , also decided this week. (Judges Michel, Rader, and Linn).
Perhaps a strategic misstep by Agrizap?: During prosecution, the PTO made the identical argument as that made by Judge Moore. The only difference was that the PTO examiner rejected the Rat Zapper patent application based on the "Gopher Zapper" patent instead of the commercial product. Instead of arguing around the asserted reference, Agrizap amended inventorship and filed a terminal disclaimer. This left the Examiner's rejection glaringly un rebutted when it turned out that the commercial embodiment (102(b) prior art) could not be swept away so easily. [See Patently-O discussion of whether to file a 131 declaration or argue over a reference.]