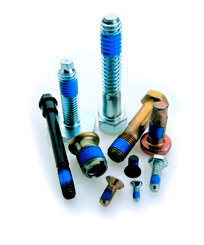 Nasalok Coating v. Nylok (Fed. Cir. 2008)
The blue patch on Nylok's bolts serves as a permanent bond. The blue patch is also protected by Nylok's trademark covering "a patch of the color blue on a selected number of threads…"
After Nasalok was charged with TM infringement and failed to appear in court, a district court entered a default judgment prohibiting Nasalok from selling bolts with a confusingly similar blue nylon locking element. Following that judgment, Nasalok attacked the mark by filing a cancellation proceeding at the USPTO. The TTAB, however, dismissed Nasalok's arguments on summary judgment — finding the claims precluded by the district court's default decision. The CAFC considered two issues on appeal:
Claim Preclusion: Under federal court practice, claims may be precluded as res judicata when there has been an earlier final judgment between the identical parties on the same set of facts. However, the CAFC has narrowly interpreted those same facts — here, for instance, the CAFC found that Nasalok's potential counterclaim of invalidity (or a cancellation proceeding) was not part of the same facts as Nylok's infringement charges.
"In this case, therefore, the "essential facts" alleged by Nylok in its infringement action—related to Nylok's ownership of the mark and Nasalok's allegedly infringing behavior—do not form the basis of the cancellation claim now asserted by Nasalok, which is based on attributes of Nylok's mark and on Nylok's actions in obtaining registration of that mark. The two claims raise different legal and factual issues, will not be supported or refuted by substantially the same evidence, and are not "logically related" in the sense described by the Supreme Court in Moore."
The court linked this decision with a public policy stemming from Lear that allows for challenges of intellectual property:
"[A] defendant in the first infringement suit should not be precluded from raising invalidity of the mark in the second action simply because it was not raised as a counterclaim in the first action. . . . public policy [is] in favor of allowing challenges to invalid marks weighs in favor of cabining the doctrine of res judicata at the Patent and Trademark Office."
Thus, the CAFC found that the TTAB had improperly found Nasalok's claims barred by claim preclusion
Collateral Attacks: Although the cancellation proceeding is not barred by res judicata, the CAFC found that it is properly barred by a rule against collateral attacks of final judgments — so called defendant preclusion. In particular, courts do not allow a former defendant to "undermine a previous judgment" through a collateral action that could have been asserted earlier. Here, the court found that allowing Nasalok to continue with the cancellation proceeding would certainly undermine the permanent injunction and thus "would constitute a collateral attack on the district court's judgment."
In a pointed concurring opinion, Judge Newman shows that the claim should be precluded because validity issues were decided by the district court. In addition, Judge Newman properly argues that the public policy for allowing challenges to established trademarks is much weaker than that for allowing challenges of issued patents.
"To state, even in dictum, that Lear favors a trademark system that facilitates attacks on trademark property ignores the differing public purposes of patents and trademarks, as well as misperceives the policy principles of Lear."
Notes:
Anti-Retroactivity

: To my knowledge, this is the first case to indicate that a post-issuance decision by the PTO would require vacatur of a decision in a completed case. This situation is, however, parallel to the Translogic decision where the CAFC used the PTO's cancellation of Translogic's patent to retroactively overturn a prior jury verdict simultaneously on appeal. [

LINK

]