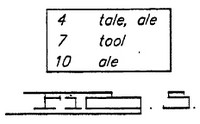 Symantec Corp. v. Computer Associates (Fed. Cir. 2008)
The district court granted summary judgment of non-infringement to the defendant CA. On appeal, considers preamble claim construction and also examines the defense of laches, inequitable conduct, and inventorship.
This is the third time that the antivirus patent at issue has been seen by the CAFC. In a prior appeal, Symantec was a defendant. After seeing the light, Symantec purchased the patent and continued a pending lawsuit against CA — this time as the plaintiff.
Preamble Limitation: The asserted claim preamble begins as follows: "In a system for transferring digital data for storage in a computer storage medium, a method of screening the data as it is being transferred." The question on appeal is whether the preamble limits the claim to coverage of screening that occurs only "as [the data] is being transfered."
The CAFC found that the preamble term not limiting because the term does not recite "essential structure or steps" nor does is it "necessary to give life, meaning, and vitality" to the claim. One guidepost for ascribing meaning to a claim preamble is a prosecution history of argument based on the preamble. Here, although the preamble term had been added during prosecution, the court found no evidence that the term had its "own independent significance" or that the applicant demonstrated "clear reliance on the preamble during prosecution to distinguish the claimed invention from the prior art." (Quoting Catalina Marketing, 289 F.3d 801 (Fed. Cir. 2002)).
[I]t is assumed that the preamble language is duplicative of the language found in the body of the claims or merely provides context for the claims, absent any indication to the contrary in the claims, the specification or the prosecution history.
Consequently the preamble term is given no effect. Claim construction reversed and the non-infringement decision vacated in Symantec's favor. (Based on the new claim construction, validity must also be reconsidered).
Laches: The CAFC dismissed the defendant's laches claim. Here, the court noted that that laches for delaying litigation is considered on a product-by-product bases and thus the delay is restarted when a defendant substantially changes its product line.
Inventorship: In a cross-appeal, a Mr. Levin asserted that he was a co-inventor to the asserted patent. As a matter of law, a co-inventor's self-interested testimony is not sufficient to prove inventorship — rather, the inventor must provide corroborating evidence (that is sufficient to prove inventorship by a clear and convincing standard under a rule of reason). Here, Levin proved that he had a meeting with listed inventor and also that the listed inventor lacked proof that he invented a claimed portion. On appeal, the CAFC affirmed that this evidence was not sufficient to prove Levin's inventorship and that the evidence regarding the listed inventor's contribution was irrelevant.
Note: My former firm McDonnell Boehnen continues to represent Symantec in this matter.