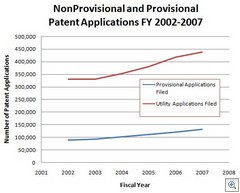 As part of the 1995 patent law overhaul, the USPTO began allowing patent applicants to file provisional patent applications. Over a decade later, these lower-cost provisional filings have taken hold. According to PTO annual reports, over 132,000 provisional patent applications were filed in fiscal year 2007. In perspective, that number is over 30% of the number of the 439,000 non-provisional utility patents filed during the same period. This proportion has been slowly rising since 2002 when the provisional applications filing rate was about 27% of the non-provisional rate.[1] That year (2002), the PTO recorded just under 90,000 provisional applications and 332,000 non-provisional patent applications.
Interestingly, in my study of recently issued patents, only 21% reference a provisional application as a parent. (In the study, I look at approximately 15,000 utility patents issued in April and May 2008.) [2]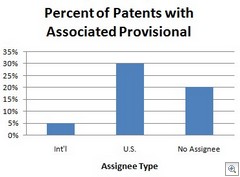 National Tool: Over half of the recently issued patents that listed an assignee indicated that the assignee was a foreign (non-U.S.) corporation or agency.[4] Although foreign entities are not prohibited from filing provisional applications, the provisional tool was designed to benefit U.S. entities. Thus, it is not a surprise that only 5% of the patents assigned to international applicants were associated with a provisional application while 30% of the patents assigned to a U.S. applicant were associated with a provisional application. Two countries – Israel and Canada – stood out as filing the highest proportion of provisional parent claims. Both of these countries are known for having patent attorneys with a high level of familiarity with U.S. laws. Only 2% of the Japanese & Korean patents included provisional parent claims. [Updated June 03 with Corrected Figure]
The provisional application provides a potential extra year of patent eligibility at the end of the term. Thus, it is also not surprising that new drug inventions – where a potential year at the end of the term is most valuable – have the highest rate of association with a provisional application.[5] Likewise, patents on electrical and electronic applications had the lowest rate of provisional filing even after excluding the international applications.
The provisional filings appeared to have almost no impact on the pendency time of a patent application as measured by the number of days from filing the nonprovisional to issuance. This makes sense as no examination takes place until the nonprovisional application is filed.
The following table also provides some interesting comparisons of patent strategy.[6]
Type of Technology< ?xml:namespace prefix ="" o />

Number of Utility Patents in the Sample

Number of Patents Referencing Provisional Parent

Assignee

Mechanical

24

1

4%

Ford

25

13

52%

GM

Drugs & Medical

7

4

57%

Wyeth

8

7

88%

Genentech

11

1

9%

Boston Scientific Scimed

21

10

48%

Medtronic

Computers & Communications

15

12

80%

InterDigital

23

7

30%

Oracle

31

11

35%

QUALCOMM

44

25

57%

Broadcom

114

16

14%

Microsoft

Chemical

6

6

100%

Bristol-Myers Squibb

9

4

44%

Procter Gamble

10

3

30%

3M Innovative Properties

14

9

64%

EI du Pont de Nemours

17

0

0%

General Electric[7]

17

16

94%

Genentech
---