According to PTO figures, the Office has issued around 25,000 certificates of correction on issued patents each year since 2001. On a per patent basis, about 15% of issued patents are associated with a certificate of correction.*
Generally, a certificate of correction can be used to correct a minor mistake such as a "clerical or typographical" error or other minor error. In Superior Fireplace, the court held that a certificate of correction that broadens the claim is only permissible when it is clear from the specification and prosecution history how to correct the error. Similarly, in Central Admixture Pharmacy the CAFC found that the correction from osmolarity to osmolality was void because the error "was not clearly evident to one of skill in the art and the result was to broaden the claims." The relief for an improper certificate of correction is simply to cancel the certificate.
Over the past several years, a number of automated and out-sourcing services have emerged to check against PTO printing errors and other typographical errors. What are the best services and best practices regarding corrections?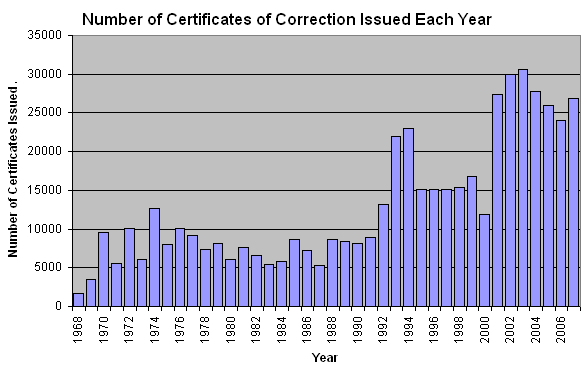 * To account for the time delay in obtaining corrections, I looked at only patents numbered 6,000,000 – 7,000,000 for the per patent estimate.