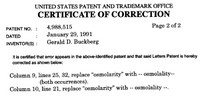 Central Admixture Pharmacy Services v. Advanced Cardiac Solutions (Fed. Cir. 2008) (Non-precedential)
Most non-precedential opinions affirm the lower court. In fact, this decision is the first non-precedential reversal of 2008 (according to a Lexis search). In the prior decision, the CAFC voided a certificate of correction that had attempted to change a claim limitation from osmolarity to osmolality.
The final line of the original opinion reads as follows: "On remand, CAPS [the patentee] may pursue its allegations of infringement of the uncorrected 'osmolarity' version of the '515 patent claims." However, after the remand the district court refused to allow CAPS to prove infringement based on the uncorrected version of the patent. Its reasoning was that CAPS had previously stated that it would not pursue that theory of infringement.
On appeal the second time, the CAFC reversed and remanded — holding that its prior order was "clear: on remand, the district court was to decide the merits of CAPS's infringement claim under the pre-[Certificate of Correction] claims. The district court was not at liberty to 'determine' the issue on procedural grounds, as it did."
Reversed and remanded for consideration of the patentee's infringement arguments.
Notes:
This panel included Judges Schall, Clevenger, and Gajarsa.
The original panel included Judges Schall, Gajarsa, and Prost. Opinion by Gajarsa [LINK]
The patent at issue (No. 4,988,515) covers a solution of glucose and amino acids used to nourish heart tissue during open heart surgery when blood flow is stopped.
This decision appears quite limited. The patentee is able to present its new infringement argument because the original CAFC opinion specifically ordered the court to allow the new argument. This decision does not require a reversed lower court to allow a party to present arguments that had previously been dropped.