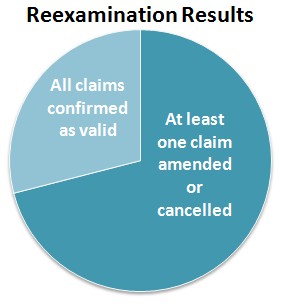 To get some sense of the PTO's current ex parte reexamination practice, I looked at the 2000+ reexamination certificates that have been published in the Official Gazette since January 2000. There are three potential outcomes for any particular reexamined claim: validity affirmed; validity affirmed with an amendment; and cancelled. In addition, claims may be added.
Outcomes: From my sample, 71% of the completed reexaminations resulted in claims that were either amended or cancelled while only the remaining 29% resulted in all claims being confirmed. A much smaller number – 12% – of the reexaminations resulted in all claims being cancelled.
The middle ground: 59% had at least one independent claim confirmed while 50% included at least one amended claim. For the 34 completed design patent reexaminations, the single claim was confirmed as valid 16 times and cancelled 18 times.
Timing: The reexamination certificates in my sample had an average pendency of 33.5 months (median 28.5 months).* The PTO's reported average and median are 24.0 months and 18.6 months respectively. The difference apparently comes from their inclusion of reexaminations from the 1980's and 1990's which had much lower pendency than more recent numbers. [PTO Data 1981-2007].
Outcome & Timing: Reexaminations that simply resulted in a confirmation that the the initial claims are valid were resolved more quickly (averaging 24 months) while those resulting in cancellation of all clams were much slower (averaging 45 months). Cases at the longer end of the spectrum often involved either BPAI appeals or lost files.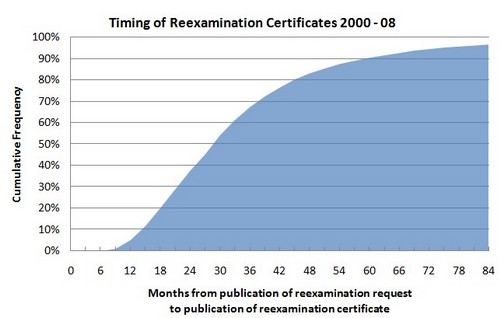 Thanks to several Patently-O readers for showing me how to find reexamination certificates. I was able to use the Westlaw database for this search. (Remember law school and the free academic access). The data can be compiled from the PTO OG, but that would be a larger job. The PTO does maintain a list of all the issued reexamination certificates here.
* I roughly calculated pendency by measuring the elapsed time from publication of a reexamination request to publication of the reexamination certificate.