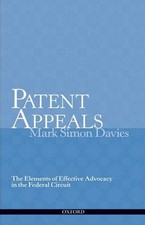 Book: Patent Appeals: The Elements of Effective Advocacy in the Federal Circuit
Author: Mark Davies
Publisher: Oxford University Press
Cost: $85.00 from Amazon
Mark Davies recently authored the user manual for Federal Circuit appeals. From its 300 spiral-bound pages, you can tell that the book is designed to serve the appellate attorney during the process of crafting a brief. Davies argued dozens of appeals as a DOJ appellate attorney and is now doing the same at O'Melveny in DC.
The book is very easy to read and understand, and it does an especially good job of providing concrete advice on how to draft an effective and clearly written brief while staying within the rules.
Davies adapts Strunk & White's Elements of Style into a top five list that would benefit any writing: (1) Omit needless words; (2) Make the paragraph the unit of composition; (3) Use parallel and consistent writing form; (4) Use the active voice; and (5) Use definite, specific, concrete language.
His biggest general piece of advice is in all caps: DO NOT USE A DISTRICT COURT BRIEF AS A SHELL!
If you have an appeal pending, you better use the book.