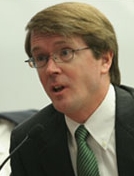 The only patent reform bill to make it through both the House and Senate in 2008 may well be the "Duffy Provision." In an article first published in Patently-O on July 23, 2007, Professor John Duffy of GWU Law School argued that current provisions for appointing members of the Board of Patent Appeals and Interferences are unconstitutional. According to Duffy's article, the constitution requires that these inferior officers (BPAI judges) must be appointed by either the President of the US or a "Head of Department" such as the Secretary of Commerce. I conducted a study in June 2008 and found that 83% of recent BPAI decision panels included at least one panel member that had been illegally appointed under the Duffy construction. In my study, a significant number of panels (44%) included a majority of illegally appointed judges, and about half of the opinions were authored by illegally appointed judges. John Welch, an expert on the Trademark Trial & Appeal Board suggested that TTAB judges would fall in the same category. [LINK]
The House and Senate have acted on the issue and have now sent a Bill to the President that would correct the appointment process for both the BPAI and the TTAB by placing the appointment duty in the hands of the Secretary of Commerce.
The Bill also includes a "defense to challenge appointment." In particular, the new statute would read that "It shall be a defense to a challenge to the appointment of an administrative patent judge on the basis of the judge's having been originally appointed by the Director that the administrative patent judge so appointed was acting as a de facto officer."
Notes:
Duffy is also a member of the McCain Justice Advisory Committee.