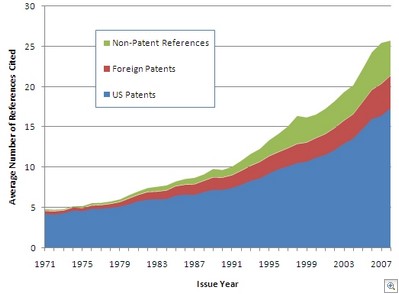 The PTO hopes to change the disclosure requirement of Rule 56. The PTO does not want more references – it already has millions stored in its electronic databases. Rather, the PTO wants practitioners to perform a preliminary search and distinctly point out the closest features of the prior art. In tension with the PTO's desires are the multiple cases finding patents unenforceable due to applicants failure to submit relevant prior art to the PTO. Based on those cases and on the increased potential value of patent rights, patent applicants have dramatically increased the number of references cited in each application. (See first chart on right showing rise of references over time). In my sample of 500,000+ patents issued 1971-2008, the average number of references cited on the face of patents rose five-fold – from fewer than five in 1971 to more than twenty-five in 2008. On the other hand, it seems that the increase of prior art is largely due to patent applicant activity. In particular, on their own, examiners only discover [cite] around six or seven references – even when the applicant submits no prior art at all.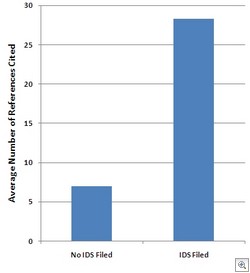 This result is shown in the second chart which compares the number of references cited in issued patents from 2006-2007 where the applicant filed an information disclosure statement (IDS) versus those where no IDS was filed.
I don't have the answer, but I do know that virtually no one reads all the references when more than thirty are submitted (except in litigation down the line).