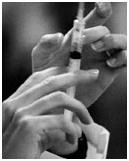 On Friday, I will be speaking at the Seton Hall Law Review's Health Law Symposium. This year's topic is focused: Preparing for a Pharmaceutical Response to Pandemic Influenza. [LINK] A portion of my talk will focus on how patent law may react during a public health crisis.
The reality is that in a pandemic situation, the patent rights covering important treatments will be ignored. Under TRIPS, during a national emergency would-be patent infringement becomes a legitimate unauthorized use. At some later point, the patent holder should receive payment based on "the economic value of the authorization." In all likelihood, however, that ex-post payment will be a small fraction of the potential monopoly profits that could have been earned.
There are several legal avenues to allow "unauthorized use" in the US. One avenue is by denying injunctive relief. Even before eBay, no court would order an injunction in the face of a public health crisis that could be mitigated by allowing infringement. The test for injunctive relief specifically looks to the public interest. And here, easy access to treatments would weigh heavily in the public interest. Further, a patentee has no right to injunctive relief if the infringer is the US Government. 28 U.S.C. §1498. Thus, another avenue for unauthorized use is through direct government intervention. In 2001, Congress and the Administration were reported to have seriously considered "breaking" Bayer's patent on Cipro in order to stockpile the drug against a potential anthrax attack. In the Cipro case, the Government apparently used the threat of breaking the patent to negotiate a long-term contract with Bayer at an unusually low price. This approach might be termed 'bending' the patent. Individual states within the US may also apply pressure and threat of unauthorized use while retaining immunity from suit under the 11th Amendment of the Constitution.
What Incentive?: We all understand that governments will not be able to avoid the temptation of breaking (or bending) patents covering important treatments that may be useful in some future crisis. Unfortunately, this prediction of the likely future greatly diminishes today's incentives to innovate crisis-specific treatments. Many empirical questions remain: Will the ex post compensation be a sufficient incentive to innovate? Will the most valuable treatments have non-crisis uses where patent rights will operate more normally? Are the potential crises so well defined that a grant or prize system could work better?
Notes:
The tables below show patenting and patent application data for patents relating to influenza (search influenz$). For applications filed in 2001, almost 2,500 have been published. Less than 50% of those published applications have issued as patents in the seven year interim. Although we will never be sure, it looks like a little under 20% of the "influenza" applications filed in 2001 kept secret rather than publishing.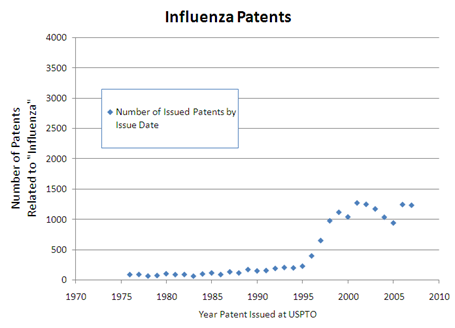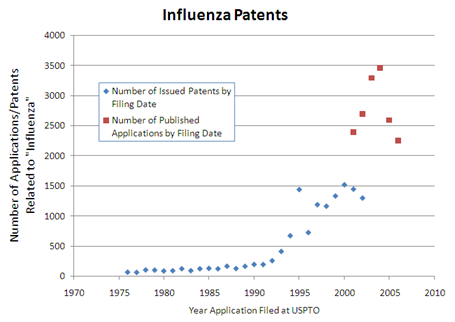 The next chart shows the average number of non-patent references cited in the influenza patents as compared to patents in general.