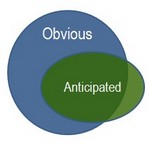 Cohesive Tech v. Water Corp (Fed. Cir. 2008)
Perhaps the most important portion of this case relates to the notion that novelty and nonobviousness are separate and distinct inquiries. And, that a patent may be found anticipated yet nonobvious.
On summary judgment, the district court Cohesive's HPLC patent might be obvious, but certainly was not anticipated. Water appealed — arguing that the judgment was logically incorrect if anticipation truly is the "epitome of obviousness." On appeal, however, the Federal Circuit confirmed that novelty and obviousness are separate and distinct — one does not necessarily follow the other.
"While it is commonly understood that prior art references that anticipate a claim will usually render that claim obvious, it is not necessarily true that a verdict of nonobviousness forecloses anticipation. The tests for anticipation and obviousness are different.
The court suggested two circumstances where an anticipated claim might still be nonobvious. First, secondary considerations of nonobviousness may exist that are not relevant in an anticipation claim. Second, although inherent elements apply in an anticipation, inherency is generally not applicable to nonobviousness.
"[O]bviousness requires analysis of secondary considerations of nonobviousness, while secondary considerations are not an element of a claim of anticipation. And although anticipation can be proven inherently, proof of inherent anticipation is not the same as proof of obviousness."
The court also gives an example —
"Consider, for example, a claim directed toward a particular alloy of metal. The claimed metal alloy may have all the hallmarks of a nonobvious invention—there was a long felt but resolved need for an alloy with the properties of the claimed alloy, others may have tried and failed to produce such an alloy, and, once disclosed, the claimed alloy may have received high praise and seen commercial success. Nevertheless, there may be a centuries-old alchemy textbook that, while not describing any metal alloys, describes a method that, if practiced precisely, actually produces the claimed alloy. While the prior art alchemy textbook inherently anticipates the claim under § 102, the claim may not be said to be obvious under § 103."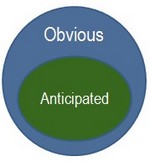 Judge Mayer dissented — arguing that anticipation is a subset of nonobviousness. "Although a claimed invention can be obvious but not anticipated, it 'cannot have been anticipated and not have been obvious.' In re Fracalossi, 681 F.2d 792, 794 (CCPA 1982)."
"The majority's assertion that a claim can be anticipated but not obvious, flies in the face of a long line of precedent to the contrary. Not surprisingly, it is unable to cite a case remanding to the district court for consideration of anticipation, while at the same time sustaining a determination that claims at issue are not obvious."
The practical impact of this case:
Anticipation still gets to a jury even when the defense has a credible obviousness argument.
The Majority's example might be seen to narrow the scope of documents available for obviousness arguments along a temporal axis. (References from a long time ago shouldn't be combined with more recent references.)
In some ways, the 'common sense' approach of KSR encourages this decision. While anticipation may still be a formal construct, obviousness should focus on what really would have been obvious at the time of the invention.
Professor Ochoa (Santa Clara) reminded me about the European rule that does not allow "secret" prior art to be used in obviousness (inventive step) analysis. If the US so modified its rules, perhaps the distinction between obviousness and anticipation would begin to ring true.