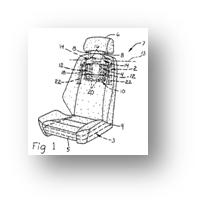 In re TS Tech USA Corp. (Fed. Cir. 2008) (precedential order)
Responding to an interlocutory petition for a writ of mandamus, the Federal Circuit has ordered a patent case transferred from Judge Ward's courtroom in the Eastern District of Texas to the Southern District of Ohio. Both venues were "proper," but the appellate panel found the Ohio venue "far more convenient."
In 2007, Michigan based Lear Corp (not Lear Jets) sued TS Tech for infringing its patent covering a pivotable vehicle headrest. The accused TS headrest assemblies were supplied to Honda and used in the Civic and Accura RDX. TS is a Japanese company, but the defendants are TS's North American subsidiaries headquartered in Ohio and Canada.
In 2008, the Fifth Circuit (TX, LA, MS) decided another venue case on mandamus – finding that cases should be transferred from the Eastern District of Texas when the new venue is "clearly more convenient." In re VW (5th Cir. 2008) (en banc)(cert petition pending). On mandamus, a lower court's refusal to transfer will only be reversed if it produces a "patently erroneous result."
Here, the lower court erred in its application of 5th Circuit law in several ways:
Plaintiff's Choice: The lower court gave too much ("inordinate") weight to the plaintiff's choice of venue.
Distance from Home: When a defendant is more than 100 miles from home, "inconvenience to witnesses increases in direct relationship to the additional distance to be traveled." Here, all the witnesses are in Michigan, Ohio, and Canada. All of those witnesses "would need to travel approximately 900 more miles to attend trial in Texas than in Ohio."
Physical Evidence: "Because all of the physical evidence, including the headrests and the documentary evidence, are far more conveniently located near the Ohio venue, the district court erred in not weighing this factor in favor of transfer."
Public Interest: Texas has no interest in handling this patent dispute since the only relevant connection to the venue is that some vehicles containing the accused headrest assembly were sold in the venue. "None of the companies have an office in the Eastern District of Texas; no identified witnesses reside in the Eastern District of Texas; and no evidence is located within the venue." Thus, the "citizens of the Eastern District of Texas have no more or less of a meaningful connection to this case than any other venue."
Patently erroneous: Although "patentably erroneous" is difficult to define, the Federal Circuit found the errors sufficient to grant the writ. They reasoned that the 5th Circuit VW case – where mandamus was also granted – was based on essentially identical errors.
Transfer Ordered.