Even after the Board of Patent Appeals and Interferences (BPAI) reverses an examiner's rejection, the case is returned to the same examiner to ensure that the application is in condition for allowance. 37 CFR 41.54. At that point, the examiner is not allowed to make another search for prior art. However, the examiner may reopen prosecution and enter a new grounds for rejection "[i]f the examiner has specific knowledge of the existence of a particular reference or references which indicate nonpatentability of any of the appealed claims." MPEP §1214.04. According to the MPEP, reopening prosecution requires written approval of the Technology Center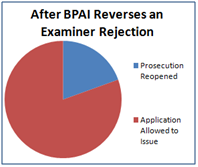 Director.
To get a sense of how this post-reversal process operates in practice, I looked at a set of 149 decisions from 2006 where the BPAI had reversed examiner rejections. In 80% of cases, the examiner accepted the BPAI decision and did not re-open prosecution. In these cases, a patent generally issued within nine-months of the BPAI decision (median of six months) unless the applicant caused some delay. A typical delay is seen in IBM's Application No. 10/047,116. After winning an appeal on nonobviousness grounds and receiving a notice of allowance, IBM failed to pay the issue fee in a timely fashion. The patent finally issued after the PTO granted a petition to revive.
In the remaining 20% of the reversals, the PTO re-opened prosecution by offering new grounds for rejection. Occasionally the new grounds are suggested by the BPAI but more often they come from the examiner and fall under §101, §103, or §112. The current status of those re-opened cases from my 2006 sample can roughly be broken into thirds: a third of the cases were eventually patented despite the new rejection; a third of the cases are still pending; and a third of the cases were abandoned after the PTO continued to press its case. A handful of the pending cases are on their way to the BPAI for a second go-round.
Notes:
One PTO insider takes issue with my statement that after being reversed "the examiner is not allowed to make another search for prior art." The MPEP §1214.04 states that "[t]he examiner should never regard such a reversal as a challenge to make a new search to uncover other and better references." According to the insider, that statement is not a prohibition on making a new search, but only a "discouragement." In practice, new searches are conducted and, if new art is found the PTO will reopen prosecution.