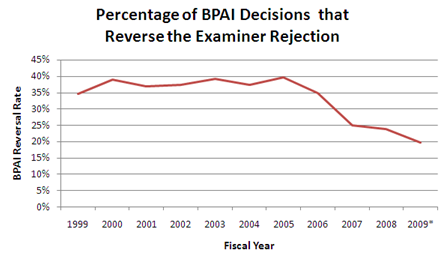 In an earlier post, I examined what happens to patent applications after the BPAI reverses an examiner rejection. [LINK] This next post looks at the BPAI reversal rate itself. Here, I define the reversal rate as the percentage of cases where the Examiner rejections are completely reversed (as opposed to partial reversals).
Over the past several years, the BPAI reversal rate has dropped dramatically. From FY1999-FY2005, the reversal rate remained relatively steady between 35% and 40%. Then, in FY2006 we began to see a smaller proportion of reversals. By the first two months of FY2009, the reversal rate had dropped to 20%. Part of the drop is likely attributable to new filtering mechanisms that keep low-quality rejections from reaching the Board. The pre-appeal brief conference program started in 2005 and allows a patent applicant to request an internal review of the examiner's final rejection at the Tech Center (TC) level before an appeal brief is filed. Even if no pre-appeal brief conference request is made, the examiner's case for a rejection is usually reviewed at the TC level before the examiner is allowed to file a responsive brief.
In recent years, these filters have operated to weed-out 80% of the cases where an appeal brief or pre-appeal brief conference request had been filed. Prior to implementation of these filters, the majority of appeal briefs led to BPAI decisions. [See Katznelson, Slide 15]
When the low quality rejections are eliminated from consideration, we should expect that the BPAI reversal rate would drop – as it has. The BPAI is no longer seeing many of the easy reversal cases where the examiner made a clear legal error. Rather, today's cases before the board tend to be more focused on arguable issues involving obviousness, enablement, and patentable subject matter.
The filters only tell part of the story, and the reversal rate masks the fact that – in absolute numbers – the Board is reversing more cases than ever. Over this same period, the number of appeals filed has increased dramatically. And, although the BPAI has increased its throughput, the backlog has grown five-fold since 2005. These pendency pressures give the Board an incentive to make appeals less hospitable – as we saw with the new (not-yet-final) BPAI appeal rules.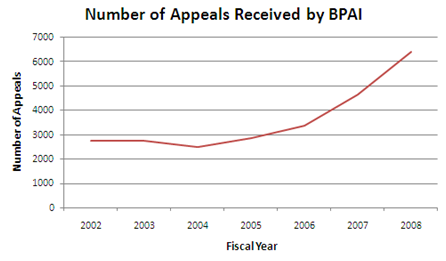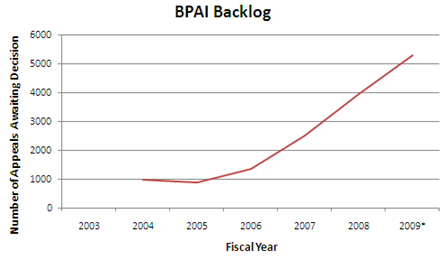 Notes: