Erbe Elektromedizin v. ITC and Canady Tech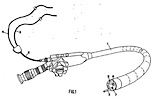 (Fed. Cir. 2009) 08-1358.pdf
Erbe's patent appears to cover aspects of a surgical flesh-welding technique known as argon plasma coagulation (APC). After narrowly construing the claimed plurality of endoscopic "working channel," the ITC found no evidence of direct infringement. On appeal, the Federal Circuit affirmed.
I'll avoid the claim construction particulars, but focus here on whether the Federal Circuit can properly review ITC Claim Construction decisions de novo.
Claim construction is a matter of law, and under the Administrative Procedures Act, the Federal Circuit reviews ITC decisions of law for "correctness." However, in the usual course, agency decisions interpreting a matter of law are ordinarily given at least Skidmore level deference. See Christensen v. Harris County.