Sofpoool LLC v. Intex Recreation Corp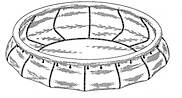 . (Fed. Cir. 2009)(Nonprecedential)
In Egyptian Goddess, an en banc Federal Circuit eliminated the points of novelty test as a separate requisite test of infringement of a design patent. Rather, the court held that design patent infringement should be determined based on the "ordinary observer test" — a test that originated in the 19th century Gorham case.
In Sofpool, a pre-Egyptian Goddess District Court asked a jury to determine infringement based on both the points of novelty test and the ordinary observer test. As expected in essentially all point of novelty cases, the jury returned a verdict of noninfringement.
On appeal, the Federal Circuit vacated. The interesting portion of this opinion stems from the patent holder's request that the appellate court issue a judgment of infringement. During trial, Intex admitted that its design might infringe under the ordinary observer test. The Federal Circuit disregarded that admission and broke from tradition by noting that Egyptian Goddess created a "new" ordinary observer test. Thus, the prior admission does not satisfy the new test.
Sofpool argues that it "is entitled to an instruction on remand that the '817 patent is infringed, because both Intex's expert and its attorney conceded that the accused design satisfied the ordinary observer test." We disagree. Although Intex acknowledged that its oval pool might infringe the '817 patent under the ordinary observer test as it existed prior to Egyptian Goddess, Intex has never conceded that its oval pool infringes under this court's newly articulated ordinary observer standard.
Attorneys will need to work-out how this decision meshes with the statement in Egyptian Goddess that the court was reviving the Gorham test:
From Egyptian Goddess: [I]n accordance with Gorham and subsequent decisions, we hold that the "ordinary observer" test should be the sole test for determining whether a design patent has been infringed.
If anything, Egyptian Goddess changed the Gorham test by stating that similar prior art may be used to "highlight[] the differences between the claimed and accused design."