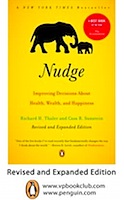 Following the Sunstein-Thayler nudge theory, the new PTO administration is taking small non-rule-based steps to discourage the filing of Requests for Continued Examination (RCEs). RCE's are already fairly expensive – $810. That outlay is relatively low compared with the cost of preparing and filing an appeal – especially when it appears that an applicant's arguments have not been fully considered or when the applicant perceives the opportunity for an amendment that would lead to allowance.
Timing: In the past, one benefit of RCEs was that they were quickly examined as part of the theory of compact-prosecution – in essence, RCE filings were treated almost just like an office action response. Under a new procedure, the PTO will now be placing RCE applications in the same queue as divisional and continuation applications. Although that category is identified as "special new," cases are typically taken-up more slowly than ones already on the docket and in-prosecution. According to a memo from Director Kappos, "The change to the docketing of requests for continued examination means that examiners are no longer required to act on a request for continued examination within two months of the entry of the request for continued examination on their docket. This change to the docketing of requests for continued examination is being made to allow examiners greater flexibility in managing their workload and allocating their time among requests for continued examination and new applications." [Note – I'll see if I can pull-up data on the typical delay from filing a continuation until a First Action on the Merits (FAOM)]. [Kappos Memo – rce_docket.pdf]
Examiner Incentives: One of my students – Jaron Brunner – recently wrote an excellent paper applying negotiations theory to the patent prosecution process. Jaron is certainly correct that many aspects of patent prosecution can be thought of as a negotiation process. With that mindframe, it is easier to recognize that – although applicants are the parties that actually file the RCE's – examiners do play a role in taking prosecution to the point of RCE filing. The new examiner count-system addresses this problem by reducing the credit (counts) that examiners receive for examining RCE filings and increasing the credit for initial office actions. As part of the nudge toward focusing on the important issues early-on in prosecution, the PTO is also providing more incentives to examiners to have discussions (interviews) with applicants rather than rely solely on formal paper filings that are often misunderstood and left unread.
Allowing Allowable Claims: Perhaps the biggest nudge is a change in philosophy – dropping the notion that "a lower allowance rate equals higher quality." At least in their speeches, PTO management is encouraging examiners to work more directly with applicants to "find the patentable subject matter and get it clearly expressed in claims that can be allowed."
In both FY2008 and FY2009, applicants filed over 100,000 requests for continued examination.