Stuart Soffer has provided information on an interesting spike in patent litigation filings in the Washington DC Federal District Court (DDC). As the chart below shows, more patent cases against the USPTO have already been filed in DDC in 2009 than in any other year in recent history.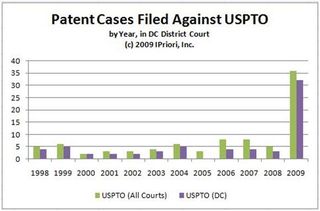 What's Going On: On my review, of 39 of the DDC patent cases filed thus far in 2009 (including those not-against the PTO), all of the cases fell into one of these two categories:
Most of the DDC cases are suits against the PTO. The 2009 spike appears to be largely driven by patent holders asking for a review of PTO calculations of patent term adjustment. See Daido v. Doll, 09-628; Biogen IDEC v. Doll, 09-754; Novartis v. Doll, 09-804. The outcome of these cases will likely be dictated by the Federal Circuit's decision in Wyeth v. Kappos. That case focuses how to calculate an adjustment when the patentee is eligible under both Section 154(b)(1)(A) and Section 154(b)(1)(B). Oral arguments were held in early October, 2009.
The remaining cases involved declaratory judgment actions filed against non-US patent holders under 35 U.S.C. § 293. That section of the Patent Act provides that DDC has in rem jurisdiction over the patent and is a proper venue unless the foreign entity has identified a designated agent in another US jurisdiction. In the case of HTC v. Luzzatto, 08-998, the Taiwanese company HTC sued to invalidate Luzzatto's patent covering a "telephone identification calling apparatus." That case is interesting because the district court refused to dismiss the case against Luzzatto even though he had assigned his rights to the patent to another entity. The court reasoned that Section 293 explicitly creates jurisdiction over the "patentee", and Section 100(d) defines a patentee to include "not only the original patentee to whom the patent was issued but also the successors in title to the patentee."