[This post is an old-one, I've moved it to the front because Amazon now has the books in stock.]
Patent Ethics: Prosecution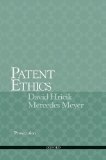 by David Hricik & Mercedes Meyer
ISBN: 0195338359
$225 from Amazon
Professor David Hricik is the country's leading expert on patent law ethics. Oxford University Press recently published his (and co-author Mercedes Meyer's) volume on patent prosecution ethics. This is a book that includes specific guidance for both patent attorneys and patent agents. It should be within the reach of every patent prosecutor. Topics include: guidance on client engagement and dis-engagement; the duty of loyalty to the client (perhaps as opposed to the inventor); avoiding conflicts of interest; specific areas of competency in patent prosecution; avoiding pitfalls created by the duty of candor; and issues arising from attorneys who practice both prosecution with litigation. The book also includes two very helpful appendices. The first appendix is an annotated version of the PTO ethics rules where the authors discuss nuances of each rule. The second is a set of sample forms; checklists; and client-memos — a version of which should be used by every patent practitioner in handling client relations.
I suspect that this book will quickly become the leading authority on patent prosecution ethics. Although not at all foolproof, attorneys and agents who rely on the book for guidance will have some cover from charges of malpractice or inequitable conduct.
My only problem with the book is its price: $255! Once you add tax and shipping, the cost approaches $1 per page. Of course, that price would get you only about a 1/2 hour of Professor Hricik's time. This book is the first volume in a two-part series. The second volume will be published in 2010 and will focus on patent litigation ethics.