Guest Post by Professor Ted Sichelman, University of San Diego School of Law
A general patent counsel at a Fortune 500 company recently remarked, "[T]he Federal Circuit does a coin flip and reverses district court decisions left and right. You might as well just roll the dice."[1] When I was in legal practice, many patent litigators echoed this sentiment.
In a recent article, I collected data from the University of Houston's PatStats project, Professor David Schwartz's exhaustive study on claim construction appeals, internal studies by the Federal Circuit, and the Administrative Office of the Courts to test this seemingly widespread belief.
By and large, the belief is false. Reversal rates for patent cases at the Federal Circuit are not particularly high, and roughly the same as civil reversal rates in other circuits, especially those for complex civil cases. On an issue-by-issue level, although claim construction, § 102(a) anticipation, indefiniteness, and a few other issues have noticeably high reversal rates, for most patent law issues, the rates are about average when compared with rates for private civil appeals in other circuits.
Figure 1 below shows case-by-case reversal rates at the Federal Circuit from 2000-2009 for patent infringement cases appealed from district courts. (This data includes cases that were fully reversed or vacated, and appears to take into account summary affirmances.)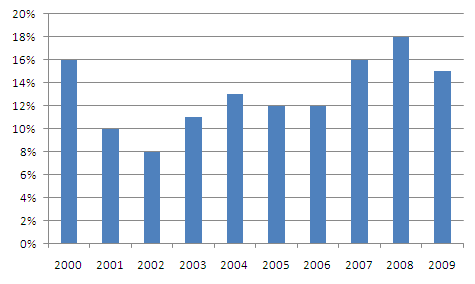 Figure 1. Reversal Rates at the Federal Circuit for District Court Patent Appeals (2000-2009).
In comparison to the 8-18% rates shown in Figure 1, the private civil litigation reversal rates across the regional circuit courts are roughly 7-18%. The reversal rate in 2009 for bankruptcy cases in the regional circuit courts was 15.1%. Although it is somewhat out-of-date, the most exhaustive study of securities and contract appeals in federal courts reports reversal rates of 29.4% and 22.8%, respectively, from 1988-1997. In sum, the case-by-case reversal rates at the Federal Circuit are roughly the same or lower than the reversal rates in the regional circuits for private civil actions, particularly complex ones, like bankruptcy, securities, and contracts cases.
Figure 2 below shows issue-by-issue reversal rates at the Federal Circuit from 2000-2007 for those issues appealed in at least 20 cases (for a more exhaustive set of reversal rates, see my article). According to the data sources I used to compile these figures, these rates derive from all appeals decided by the Federal Circuit, including summary affirmances. (However, I believe some of the summary affirmances from the early 2000s may be missing from one of the sources–if so, this would only lower the issue-by-issue reversal rates, strengthening my argument.)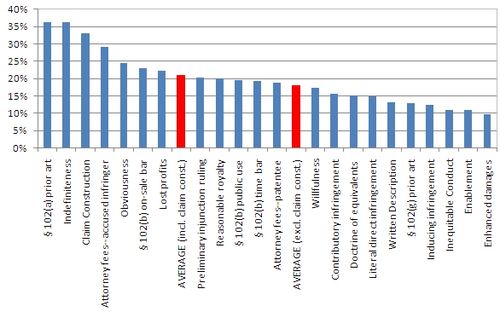 As Figure 2 shows, the average reversal rate across all issues (other than claim construction) is 18% and 21% (including claim construction). Of course, a number of issues appear to have inordinately high reversal rates–with the oft-appealed issue of claim construction (at 33%) near the top of the list. But like the case-by-case reversal rates, the average reversal rate across all issues–that is, even taking into account the large number of claim construction reversals–is roughly the same as the overall civil reversal rate in other circuits, and roughly the same or lower than case-by-case reversal rates for complex civil cases.
Thus, the actual reversal rates–whether generated on a case-by-case or issue-by-issue basis–belie the assertion that appeals at the Federal Circuit are a "coin flip" or "dice roll." When compared with reversal rates for private and complex civil actions in other circuits, the Federal Circuit rate is no different, perhaps even lower. So why do so many attorneys believe otherwise?
I think two forces are at work here. First, nearly all of the widely publicized studies on the Federal Circuit have focused on claim construction and obviousness–both of which have high reversal rates. And some of these studies excluded summary affirmances, a practice which artificially inflates the reversal rates by roughly 30%. Second, my sense is that many attorneys who regularly appear before the Federal Circuit are subject to "memory bias." Specifically, as a number of psychologists have generally recognized, these attorneys very likely recall their unpredictable appeals and forget their predictable ones.
Hopefully, the data presented here and in my article will help dispel these widespread myths and diminish some of the undeserved criticism of the Federal Circuit regarding appeals.
Ted Sichelman is an Assistant Professor at the University of San Diego School of Law, where he teaches patent law and other intellectual property courses.

[1] Patent Troubles: Does The Patent System Need Fixing?, Corporate Legal Times, June 2005, at 61 (statements of Richard J. Rodrick, General Patent Counsel, S.C. Johnson & Son Inc.).