The number of small-shop innovators continues to dwindle. In a sample of recently issued patents,* only 20% claim "small entity" status. Of those, 30% (6% of the total) are held by the original inventors.** According to the PTO Rules, large universities and non-profits still qualify as for the small entity price-break so long as the patents-in-question have not be assigned or licensed to a non-qualifying entity. At least 12% of the small entity patents are assigned to universities or non-profits. These small entities include multi-billion-dollar operations including Battelle Energy Alliance, California Institute of Technology, Princeton University, and the Korean government funded ETRI. The remaining small entity patents are largely held by companies and partnerships such as Audible Magic, PixArt Imaging, and Alverix.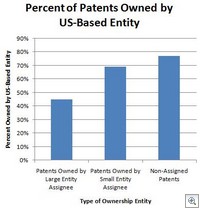 US versus Foreign: Only 45% of the large-entity assignees are US based while 69% of the small-entity assignees are US based and 77% of the un-assigned patents include at least one US based inventor. (See Graph at Right).
* This data comes from a set of 1700 utility patents issued on April 27, 2010.
** I.e., the USPTO has no assignment on record associated with the patent.