I recently posted a survey on Patently-O titled "Why Patent Law?". The introduction to the survey indicated that was "designed primarily for patent law professionals" and focuses on why individuals chose patent law as a career rather than working primarily in their technical areas of expertise as engineers, scientists, or developers.  This post includes some preliminary results on the demographics of the 939 survey responses that I received.  I am working on compiling responses to the lone long-form question outlined above.
The vast majority of responders self-identified as US Patent Attorneys (67%) followed by US Patent Agents (12%).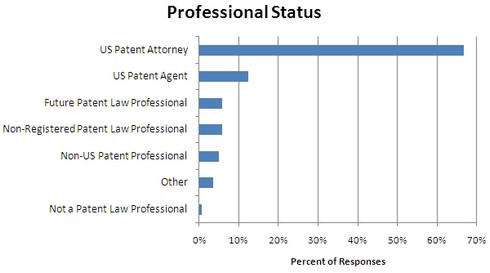 The most common asserted area of technical background in my survey was electrical engineering (33%).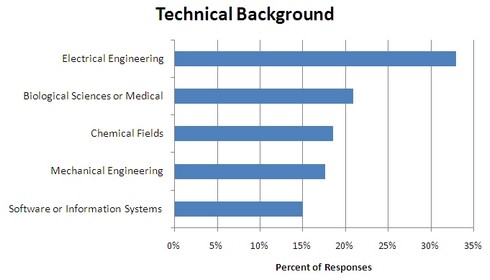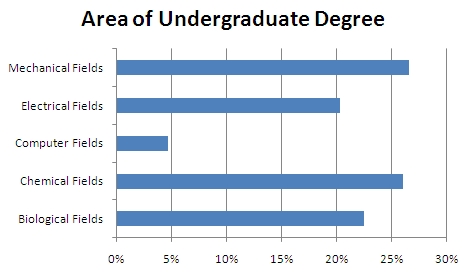 The Clifford-Field-Cavecchi dataset (CFC) indicated a lower proportion both electrical engineering professionals and a Software/IS professionals. CFC reported on "electrical fields" and "computer fields" which should, theoretically, be broader than my "electrical engineering" and "software or information systems." (See graph at right.) I believe that there are several explanation for my findings.  First, CFC make the assumption that an individual's technical background is equivalent to their college major.  My survey was more flexible and allowed individuals to indicate their technical background without providing documentation from an accredited institution. Second, the CFC data is more than four-years-old. During the interim, it is likely that EE/Software experts have entered the patent law field at a greater rate than other technical experts. Finally, it may also be true that EE/Software patent professionals read Patently-O and respond to Patently-O surveys as a greater rate than do other technical experts.
Attorney and Agent Technical Experience: According to my survey, US patent agents are likely to have more technical expertise than their patent attorney counterparts.  Namely, patent agents are much more likely to hold a PhD or equivalent (38% of responding patent agents listed a PhD compared with 13% of patent attorneys) and tend have many more years of "hands-on technical experience before focusing on patent law" (patent agents indicated 10.0 years of technical experience on average compared with 4.7 years for patent attorneys; medians of 9 and 3 years respectively).  The final chart below compares patent agent and patent attorney pre-patent-law technical experience.