By Jason Rantanen
As I commented yesterday, the Federal Circuit's statistics page no longer provides information about the disposal of patent infringement appeals by merits panels.  To get a better picture of the CAFC's activity in this area, I put together a graph that illustrates the Federal Circuit's dispositions of appeals arising from the district courts over the past fiscal year.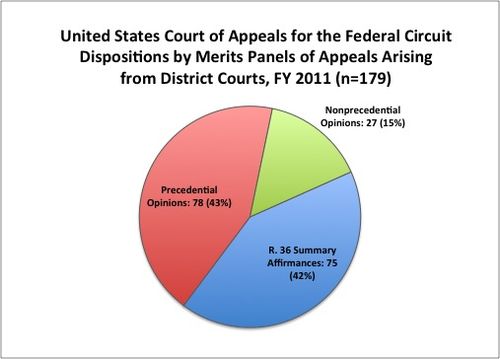 The CAFC's graphs from previous years: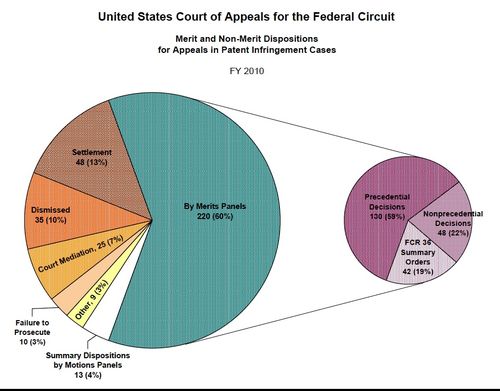 As compared with the Federal Circuit's historical data, the FY 2011 graph reflects a significant rearrangement of the way in which the CAFC is resolving patent infringement appeals: many more appeals were disposed of this year via summary affirmances and the percentage of precedential opinions has dropped sharply.  The overall number of dispositions by merits panels is also down, although that may be a function of the overall decline in appeals filed over the past few years.
A few notes:
Because this data includes only appeals arising from the district courts; i.e.: patent infringement suits,  it does not reflect appeals arising from the PTO or ITC.
Similarly, it should not be taken by itself to evidence a decline in the CAFC's production: the court deals with several areas of law besides patent law, and any numerical representation of this sort necessarily does not take into account the complexity, quality, or length of individual opinions.  Overall, fewer high-quality precedential opinions may be more desirable than large numbers of low-quality precedential opinions.
For the past year, the Federal Circuit has been significantly under strength, which may explain some of the patterns noted above.  Currently only ten of the twelve seats are filled; as of last year at this time only nine of the twelve seats were filled.  Furthermore, while Judge Gajarsa assumed senior status this year, and continues to be an active participant on the court, the court lost the valued services of Judges Friedman and Archer. 
Thanks to my research assistant Alexandria Christian for revewing the CAFC's dispositions of appeals arising from the district courts – the data on which the first chart is based.