Tyco Fire Products LP v. Victaulic Co., 10-cv-4645 (E.D. Pa. October 4, 2011)
by Dennis Crouch
In September 2010, Tyco Fire filed suit against Victaulic alleging infringement of two fire sprinkler system patents. U.S. Patent Nos. 7,793,736 and 7,819,201. Almost one-year into the lawsuit, Tyco Fire filed a pair of reissue application with the PTO – admitting that that both patents have defects that need correcting. The reissue applications request that the PTO narrow the subject matter being claimed with the apparent hope of avoiding an adverse invalidity decision in court.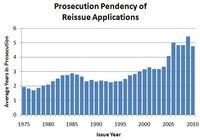 After filing the reissue applications, the patentee requested that the district court stay the litigation pending the outcome of the reissue. In response, Victaulic cited my post from January 2011 identifying the average five-year pendency for reissued patents. In a brief filed under seal, Tyco's attorneys from Morgan Lewis called my post "unreliable" and "unsubstantiated" because it was found in a blog.
In deciding the issue, the judge correctly found that the reissue will certainly take some time even if my post regarding the average delay does not exactly predict the path for Tyco's applications. A potential important difference is that my data reflects the average for all reissue prosecutions but does not separate-out cases going through expedited reissue. See MPEP § 1442.
In the end, the judge refused to stay the litigation based upon the potential delay and the fact that the reissue does not appear to be likely to narrow the issues in the litigation. In addition, the court found that the reissue was motivated by claim construction questions posed by the defendant in the litigation. This timing issue (first seeing the claim construction arguments, then filing for reissue) raised "alarm bells" with the judge who identified the move as a potential "litigation gambit" intended to give the plaintiff a tactical advantage.
Stay denied.
Note: I contacted the Morgan Lewis attorneys who submitted the brief for a comment on what was particularly unreliable or unsubstantiated regarding my post. They have not responded.