By Dennis Crouch
Provisional patent applications have become the primary initial-filing for US-based patent applicants. In FY2011, more than 150,000 provisional patent applications were filed in the US. In order to take advantage of a provisional application's priority date, the patent applicant must take action within one year to file either a non-provisional patent application or an international patent application (PCT).
A provisional application that is abandoned without being relied upon for priority is kept secret from the USPTO and never published or distributed publicly. Thus, it is somewhat difficult to study these "failed" patent applications.
In a FOIA request, I asked the USPTO for information regarding the reliance on provisional applications for priority. The results are not surprising – a substantial number (around 41%) are abandoned without being relied upon for priority. Thus, from FY2000-FY2010, about 1.2 million provisional patent applications were filed and, of those, about 500,000 were abandoned. The percentage of applications abandoned has grown somewhat in recent years. As the chart shows below, in FY2010 (the last year for which abandonment data is available) about 48% of provisional filings were abandoned without being relied upon as priority documents.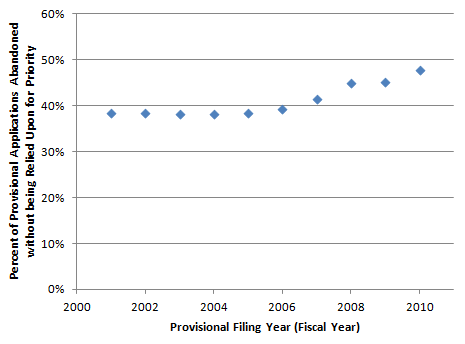 In my Michigan (MTTLR) article, I suggested that provisional applications have increasingly been serving as a more reliable substitute to the one-year pre-filing grace period available under 35 U.S.C. § 102(b). These figures lead to the additional potential conclusion that applicants are filing provisional applications at a very early stage in the patenting process, and the one-year timeline is being aggressively used as a decision-point.
Note: An applicant can "convert" a provisional to a non-provisional application within the one-year deadline. A relatively small number of applicants use this conversion procedure (< .1%) and so, for the purposes of this post, I have simply included the converted cases with totals for those with non-provisional priority claims.