The USPTO is seeking input on where to locate two more offices in addition to the DC Metro office (Alexandria, Virginia) and the planned Detroit Office. The chart below shows the distribution of patent attorneys and agents distributed by state. Does this map help us pinpoint the next two spots?: Fayetteville, Arkansas and Boise, Idaho? In this analysis, folks should consider that the new patent offices are likely to be quite small in comparison to the HQ.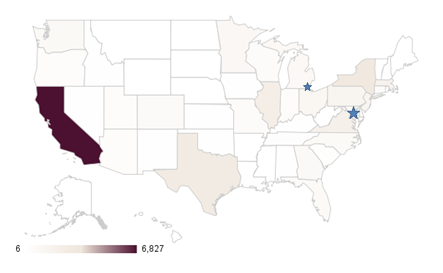 Notes:
I'm working on a zip code level map and a center-of-gravity calculation.
I only looked at Reg No.'s greater than 27,000, which includes the most senior partner at my former firm, MBHB.