By Dennis Crouch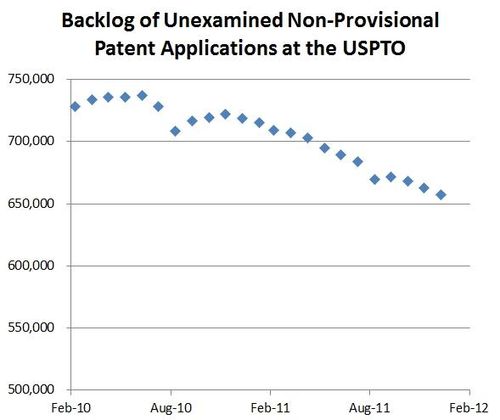 USPTO's Patent Commissioner Peggy Focarino has continued on the path of her predecessor Bob Stoll in focus on reducing the backlog of unexamined patent cases at the USPTO. (Stoll is now a partner at Drinker Biddle in DC). Here, the Office typically defines unexamined cases as those that have not yet received a first action on the merits (FAOM).
In the past year, the number of unexamined applications has dropped by about 10% and is in steady decline. We have not yet seen any measurable decline in the time-to-first-action. However, that is a lagging indicator.  In its forward looking estimates, the USPTO predicts that applications filed today will receive an action within 17 months as opposed to today's average of 23 months. 
The Office is hitting the backlog on multiple fronts, perhaps the two biggest shifts are (1) an increased spending on examination (more examining hours means more new cases being examined) with money coming from AIA fee increases and (2) shifting resources to examining new cases. One such shift has been in reducing the priority level of applications associated with a request for continued examination (RCE). The result has been a steady increase in the backlog of cases that are awaiting examination following an RCE. During the two year time-period shown in my charts, the decrease in the backlog of unexamined cases (82,000 cases) is almost entirely balanced by the combined increase in cases awaiting examination following an RCE (60,000) and cases awaiting decision by the BPAI (11,000).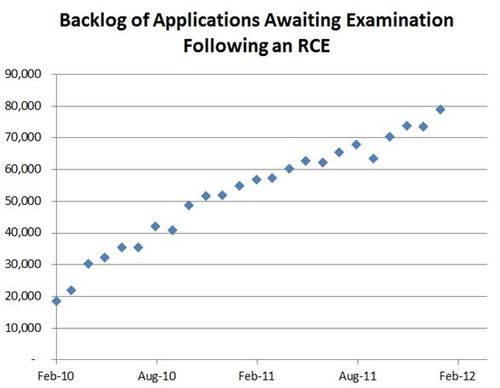 While I agree that the USPTO should focus attention on the backlog, I don't believe that the backlog should be the most pressing concern of the Office.  This is especially true since the passage of the AIA and the resulting creation of a fee-based prioritized examination program.  For a $4,800 fee (reduced for small entities), the USPTO will place an application on a fast track examination schedule.  The new reality is that any applicant who cares about fast prosecution can get fast prosecution for a relatively small fee. 
focusing on the backlog