by Dennis Crouch
It is well known that IBM receives more US patents than any other company. The company also abandons more patents than any other company. Once a patent issues, the patent holder must pay maintenance fees in order to avoid abandonment. Fees are due at 3½, 7½, and 11½ years after issuance and each subsequent fee is substantially higher. Thus, under the current schedule, the first fee is $1,130, the second fee is $2,850, and the third fee is $4,730. In recent years, IBM has abandoned thousands of patents for failure to pay the fee due at 3½ years from issuance. IBM's rate of abandonment is more than double that of other major patent holders.
The chart below shows the percent of IBM-assigned patents that that were abandoned withn 4–years of issuance for failiure to pay the maintenance fee due. The most recent available annual information is for patents issued in 2007. (Maintenance fees for patents issued in 2008 are due in the upcoming months).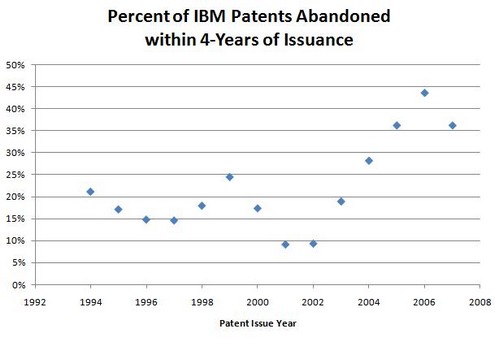 A company like Apple is on the other extreme regarding payment of these renewal fees. Based on my records, Apple has not abandoned a single application issued in the past ten years based upon failure to pay the first fee. Canon rivals IBM in terms of sheer number of patents but typically abandons fewer than 1% of its issued patents at the four-year mark.
What's going on here? Apple and Canon are certainly paying maintenance fees on patents that would be found invalid on reexamination and not-infringed in court. On the other side, IBM could have predicted at the time of issuance that it wouldn't pay the maintenance fee — so why did it pay the $1,000 issue fee?