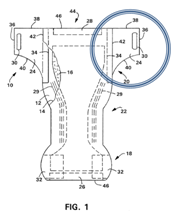 by Dennis Crouch
Kimberly-Clark v. Naty (E.D. Wisc. 2012)
Twenty years ago, Kimberly-Clark scientists had the idea of creating a diaper with an "elastomeric ear" having non-parallel edges. The patent (No. 5,496,298) issued in 1996 (sixteen years ago). In the side figure, I have circled this novel feature of the design. The curved edge and stretchiness make the diaper more comfortable. The patent itself does not claim comfort or curvedness. Rather, the claim simply spells out the physical elements of the diaper design.
In 2010, an ex parte reexamination was begun and KC cancelled all 30 issued claims but then added an additional four claims. I have reproduced the broadest claim below with the new limitations in italics. As you can see, the new limitation is related to the shape of the curved edge of the elastomeric ear – labeled as 40 in the circled portion of the diagram. The newly added limitations that were apparently novel in 1993 are that a portion of the curved edge is "generally parallel" to the top edge (labeled 38) and another portion of the curved edge is not parallel to the top edge.
The new claim:
31. A disposable absorbent article, said article defining a front portion, a rear portion, and a crotch portion connecting the front and rear portions; said article comprising:
    an outer cover;
    a liquid-pervious bodyside liner;
    an absorbent material located between said cover and said bodyside liner; a pair of elastomeric ears attached to said rear portion, said ears having a proximal edge, a distal edge, a first connecting edge, and a second connecting edge, said first and second connecting edges connecting said proximal and distal edges, said second connecting edge being non-parallel to said first connecting edge and said proximal edge being longer than said distal edge;
    a fastener joined to said elastomeric ears for attaching said elastomeric ears to said front portion in an overlapping relationship; wherein, when in use, said second connecting edge defines at least a portion of a leg opening,
    wherein the second connecting edge comprises a first segment and a second segment, the first segment extending outward from the proximal edge and being generally parallel to the first connecting edge, the second segment extending between the first segment and the distal edge and being non-parallel to said first connecting edge.
In a recent action, KC has sued Naty Babycare for infringement of the '298 patent. Naty is a Swedish company that claims to be making all natural and largely eco-friendly diapers. Unfortunately for Naty, the '298 patent still has one year on its term and the patent seemingly covers eco and non-eco products alike. The drawing below from Naty's website shows the diaper in cartoon form.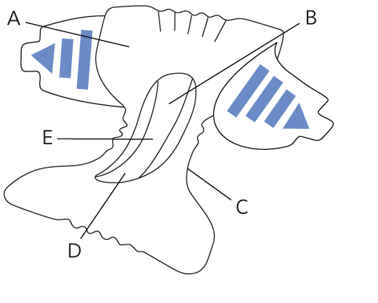 KC has asked for injunctive relief. Of course, the patent will be expired before trial. However, KC may also request preliminary injunctive relief. I wonder how the upcoming expiry date should impact the eBay inquiry.