By Dennis Crouch
The new Patent Trial and Appeal Board has cause to celebrate!
In 2008, the Board's backlog of pending ex parte appeals began to rise at an alarming rate. Being a government body, the alarms did not really begin to sound until 2010 and the fire trucks only recently arrived. Since 2008, the number of pending cases has risen almost ten-fold to its current height of more than 26,000 pending appeals. During this period, the backlog rose each and every month without a single decrease.
Now, for the first time in more than four years, the monthly backlog figure has dropped. The Board's numbers for September 2012 show that the body disposed of 311 more cases than it received for the month. The chart below shows the PTAB/BPAI backlog over the past several years. The last data point on the right hand side of the chart shows this happy decrease. Congratulations!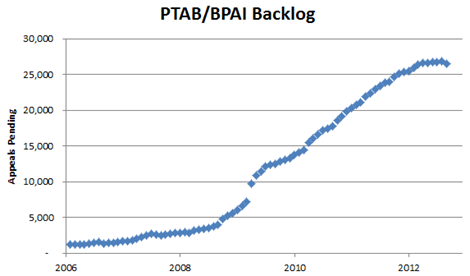 This transformation is due to the large number of new administrative judges at the PTAB. Although there may be a few bobbles, I expect that the backlog will begin a serious and steady decline by January 2013.