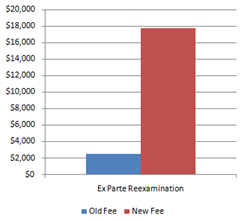 By Dennis Crouch
Historically about two thirds of ex parte reexaminations were filed by third-party filers. In recent years, that figure has risen so that now around 90% of ex parte reexamination requests are filed by third-parties. The America Invents Act of 2011 (AIA) made only a very limited change to the ex parte reexamination structure. The greatest change, however, came about on September 16, 2012 when the USPTO instituted a new fee regime that boosted the cost of ex parte reexaminations from $2,520 to $17,750.
In the days leading up to September 16, 2012 there was a rush to file these ex parte reexamination requests in order to beat the fee deadline. The 200 or so requests filed in the final week is equivalent to about four months of filing in more ordinary weeks. With that in mind, it is not surprising that the post-September-16 filings are at a much lower rate – about one third of the pre-implementation rate for the past seven weeks.
By new year (January 2013), any gap created by the rush to file should be dissipated. However, I don't expect for the ex parte reexamination filings to be back to their normal pre-AIA rate because of the new high-cost of filing ex parte reexaminations and because supplemental examination is now a better alternative for the majority would-be owner-filed reexaminations. The one caveat is that the new increased expense of inter partes review may push some challengers toward the ex parte approach.
Notes
Upcoming – A review of recently filed supplemental examination requests.
If you are worried that the drop in filing post-implementation will harm the USPTO's bottom line, don't worry. The PTO's CFO should see the raise in fees as a very good business move. The PTO now has two thirds less work coming-in but each bit of work receives seven times more revenue. More money for less work is never a bad thing (unless you are the customer).