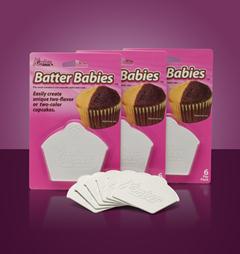 by Dennis Crouch
Kimber Cakeware v. Bradshaw Int'l (S.D. Ohio 2013)
Kimber's design patent No. D671,376 covers a cup-cake batter separator. Kimber sells these as "batter babies" and they allow you to make cupcakes with two types of batter. Cool idea. Of course using a divider to segmenting baked goods is not a new idea. In fact, Robert Reiser (the '376 patentee) has his own prior patents covering other forms of cake-batter separators.
The question in this recently filed case is going to be infringement: whether "in the eye of an ordinary observer, giving such attention as a purchaser usually gives [and in light of the prior art], the two designs are substantially the same." Quoting Gorham v. White (1871) as described in Egyptian Goddess v. Swisa (Fed. Cir. 2008).
The following image comes from the Kimber complaint. Of course, the missing factor here is the prior art.