By Dennis Crouch
One reason for the US strong pro-intellectual-property position is based on US national interests. US IP rights have historically been held primarily by US entities. In that scenario, US IP enforcement was primarily a transfer of wealth between US entities. That setup allows for strong political support for IP rights so long as the rights offer additional benefits (such as incentive to innovate and market products).
A major change in this political environment is the new reality that most new US IP rights are of foreign origin and held by foreign entities. In that context the US national interest in IP enforcement is at least marginally reduced because a larger portion of IP enforcement actions will involve a transfer of wealth from US entities to foreign entities.
The chart below shows the percent of US utility patents issued each year that are of foreign origin. The general trend is that a smaller and smaller percentage of US patent rights are owned by US entities.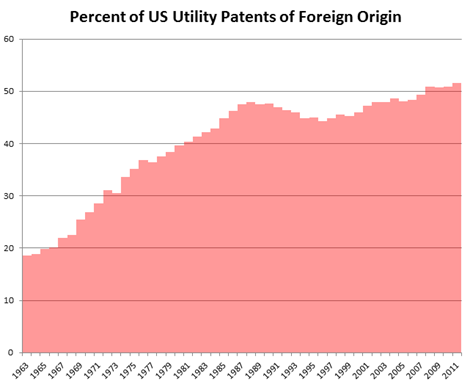 For more consideration of this issue see the following new report: /media/docs/2013/03/foreignownrep-paper.pdf