By Jason Rantanen
There are two terrific-looking conferences coming up in Chicago in early April.  On Thursday, April 11, Loyola University Chicago's Law Journal will be hosting "Patents, Innovation & Freedom to Use Ideas," and on Friday, April 12, the Illinois Institute of Technology Chicago-Kent College of Law will be hosting PatCon 3.  Headlining this year's PatCon is a debate about the patent system between Judge Posner and Richard Epstein.  Details on both conferences below.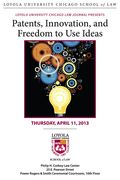 Loyola University Chicago Law Journal's "Patents, Innovation, and Freedom to Use Ideas"
Thursday, April 11, 2013
PHILIP H. CORBOY LAW CENTER, POWER ROGERS & SMITH CEREMONIAL COURTROOM • 10th Floor
25 E. Pearson Street · Chicago, IL 60611
 Under the Constitution, the justification for a patent system—if there is one—is to advance the public welfare by promoting the progress of science. The Constitution authorizes a possible means to accomplish this goal by providing Congress the power to grant limited exclusive rights to those who sufficiently advance the public welfare through innovation. Our Conference will provide a forum for nationally recognized scholars and judges to discuss the trade-off between two interests of the public: the interest in development of new ideas and the interest in freedom to use ideas. The patent system is intended to serve the former, but imposes a cost on the latter. More specifically, the Conference will explore whether the added innovation achieved by the patent system justifies its cost to society, whether it operates within the Constitution's requirements, and whether improvements can be made or if instead a different system, or no system at all, might be a better option.
More details here: www.luc.edu/law/lawjournalconference or download the brochure here:  Download Loyola Brochure. To register, email Jimmy Kritsas at lawjournalconference@luc.edu. 7.25 hours of CLE credit will be offered.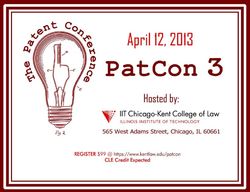 PatCon 3
April 12
IIT Chicago-Kent College of Law
565 West Adams Street
Chicago, Illinois 60661
Highlights include:
An address by Federal Circuit Judge Richard Linn;
A debate on the patent system between Seventh Circuit Judge Richard Posner and Prof. Richard Epstein (NYU and Chicago);
A plenary session featuring USPTO Chief Economist Alan Marco, Prof. Mark Lemley (Stanford), and Prof. David Abrams (Penn); and 
An industry panel with senior IP representatives from BP, AbbVie, Bridgestone, and RR Donnelley.  
For more details, download the flyer (here: Download PatCon3 Flyer) or visit the conference website at: http://www.kentlaw.iit.edu/academics/jd-program/certificate-programs/intellectual-property-law/patcon-3. 
CLE credit for attendance is expected.  You can register at:  https://www.kentlaw.edu/patcon/
Hope to see you at both!