By Dennis Crouch
Duvall v. Kenyon & Kenyon (D.D.C. 2013)
In 1990, ITC Chief Judge Donald Duvall published his treatise titled Unfair Competition and the ITC: Actions Before the International Trade Commission under Section 337 of the Tariff Act of 1930. [correction] He retained ownership of the assigned legal title to the copyright to Clark Boardman Pub. (later purchased by Thompson Reuters) and continued to update the treatise on an annual basis. Judge Duvall died in 1999 and his right to royalty (beneficial title) passed to his widow, Kathryn Duvall.
Attorneys at Kenyon & Kenyon took over the annual updates and, as part of a royalty agreement, Ms. Duvall continued to receive annual royalties on sales of new versions of the book. Each edition listed Judge Duvall as the original author as well as the new authors. In 2012, however, Judge Duvall's name was removed from the publication and the publisher ceased making any royalty payments to Ms. Duvall. After consulting with the Kenyon attorneys, the publisher wrote to Ms. Duvall:
[A]fter careful determination as to source of the [W]ork's content, the substantial revision of that content by the current authors, and the many years since Judge Duvall had contributed material to the publication, we were forced to conclude that attributing the work to Judge Duvall no longer provided readers with an accurate statement of authorship.
Ms. Duval has now sued Kenyon & Kenyon and the newly listed authors – alleging copyright infringement, declaratory judgment of authorship, illegal contract (between Kenyon & the publisher), breach of contract, breach of implied duty of good faith and fair dealings, civil conspiracy, interference with contract, and accounting for past royalties.
The complaint provides something of a tour-de-force as it lists page after page of the treatise where Judge Duvall's original writing is virtually unchanged. According to the allegation, for example, the page shown below compares Judge Duvall's version with the newest version of the treatise with changes in redline.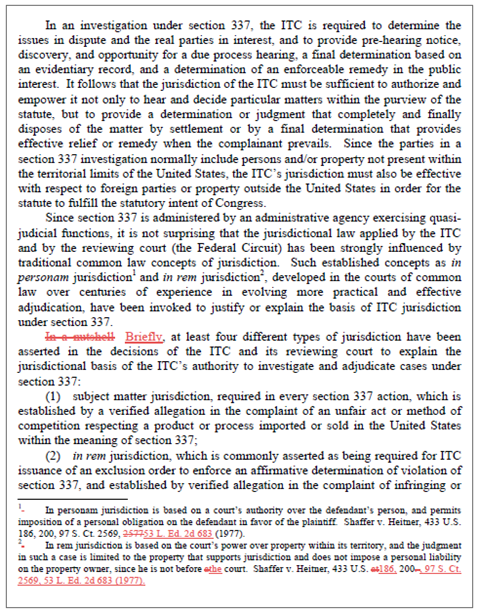 The point here is that large portions of the treatise are virtually unchanged and that fact likely leads to the conclusion that Judge Duvall's copyright continues to provide exclusive rights to the work. The unfortunate aspect of this case is that Kenyon continues to publish the work in the USA. If it had contracted with a foreign publisher then Duvall could have brought the action in the USITC. 
Read the complaint: https://docs.google.com/file/d/0B_b15LgT1GHYUGd6YnYxS1RWNjQ/edit?usp=sharing