Guest post by Thomas W. Krause and Heather F. Auyang.
In our recently-published article, What Close Cases and Reversals Reveal About Claim Construction at the Federal Circuit, 12 J. Marshall Rev. Intell. Prop. L. 583 (2013) (available at http://jmripl.com/issues/article/310), we focus on two independent sets of cases that reveal some deep truths about the current state of claim construction jurisprudence, and which show that the current problems with claim construction have little to do with the narrow "deference" issue in Lighting Ballast. 
The article reports on (1) claim construction cases in which the Federal Circuit judges disagreed on an issue of claim construction, and (2) claim construction cases where the Federal Circuit reversed a district court. 
Close Cases
We call the former set "close cases," since they are typically decided by a 2-1 vote, as opposed to a 3-0 vote.  The notion is that 3-0 cases are not all that interesting — if all the judges agree on an issue, then odds are it is not that controversial.  2-1 cases, by contrast, often reflect differences in approach between the judges.
Here is a chart that shows that in close cases, some judges predictably vote for a broader interpretation, others predictably vote for a narrower interpretation, and the remaining judges vote unpredictably.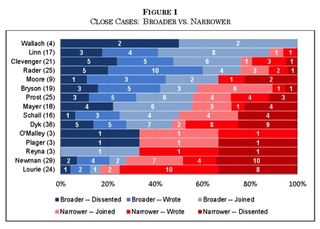 If predictability is the goal, then the easiest solution would be for the Court to choose between Judges Linn and Lourie, and let that judge's principles guide claim construction in every case.  Until such a "choice" is made, claim construction in "close" cases will always be panel dependent. If Judges Lourie and Linn are both deemed "wrong," then it is difficult to see how we will ever attain predictability in claim construction at the Federal Circuit.  The basic divide seems to be over what we call the "actually invented" standard – the approach taken by Judge Lourie (and others), and opposed by Chief Judge Rader (and others).  The Federal Circuit's failure to take this issue en banc in Retractable Technologies guarantees that there will be a steady flow of dissents in claim construction cases for the foreseeable future.
We also looked at the same set of cases in terms of whether the judges were (i) more or less likely to be accused of "importing" a limitation from the specification, (ii) more or less likely to affirm a district court claim construction, and (iii) more or less likely to vote for the patentholder.  These parameters are not independent of the decision to vote broad or narrow (since a narrow interpretation typically aligns with the district court [see below] and against the patentholder), but it's interesting to look at the ways in which the data do not track.  Some judges vote against the patent holder and against the district court more often than one would expect based on their broad/narrow voting tendencies, and others vote for the patent holder and for the district court more often than one would expect.  Figures 2-4 in the article show these results.
We also created individual charts for each judge, which show case by case how the judges voted in terms of broad/narrow, pro-affirm/pro-reverse, and pro-patent/anti-patent.  Here are a few contrasting examples, which underscore some of the more dramatic differences:
Just looking at these charts (without even trying to figure out what they mean) shows that these judges vote very differently from each other.  The article provides itself provides a few observations based on the charts (and an explanation of how to read them, if it's not readily apparent).
Reversals
The reversals are also very interesting.  We focused on these cases because they – by definition – are cases in which the district court did something wrong.  What we found is that when district courts err, they tend to err in favor of a narrower interpretation.  In other words, while one might expect, all things being equal, that district courts would err as often in a broadening as a narrowing direction, all things are clearly not equal.  Over 2/3 of the time, the district court's mistake was in going narrow.  On reflection, this should not be surprising.  A narrower interpretation often permits a district court to grant summary judgment of non-infringement and thereby get the case up to the Federal Circuit without having to put the parties and the court through the time and expense of a trial.  But given this nearly systematic bias, perhaps giving more deference to district courts will not be particularly helpful.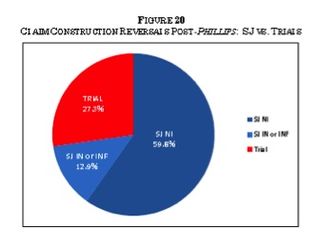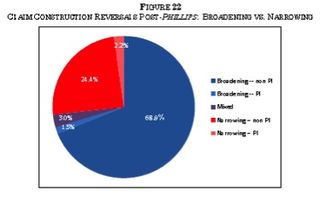 Additional charts and discussion are in the article.
We welcome any comments.
Thomas W. Krause is an Adjunct Professor of Law at the Georgetown Law Center and Special Counsel for Intellectual Property Litigation at the United States Patent & Trademark Office.  Heather F. Auyang is Senior Counsel at LTL Trial Attorneys in Redwood City, California. The views and opinions expressed herein are those of the authors and do not reflect the views or opinions of the United States Patent and Trademark Office or LTL Trial Attorneys.