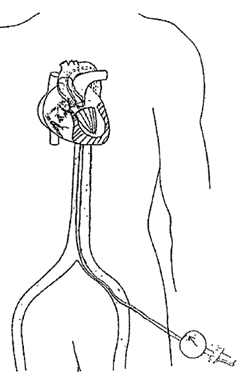 by Dennis Crouch
Inter Partes Review of U.S. Patent No. 7,582,051 (Heart Failure Technologies,LLC v. CardioKinetix, Inc.) (P.T.A.B. IPR 2013-00183)
In early 2013, Akin Gump attorney Sanford Warren sent an interesting letter to the medical device start-up company CardioKinetix on behalf of Akin Gump's clients Heart Failure Technologies. Heart Failure is a non-practicing entity looking to license its U.S. Patent No. 7,485,088. Oddly, Heart Failure did not threaten to sue CardioKinetix but rather threatened to file an inter partes review against one or more of the company's unrelated patents. Warren wrote: "If we have not received a substantive response by [1:00pm Central Time on December 21, 2012], we will file an inter partes review petition against one or more of CardioKinetix's patents on [December 21]." File Attachment: AkinGumpThreatLetter.pdf (1481 KB). Heart Failure eventually did file the IPR against CardioKinetix's U.S. Patent 7,582,051 – alleging that two of the claims were invalid as obvious based upon a combination of three prior art references.
At the outset, the Patent Trial and Appeal Board (PTAB) must determine whether to grant or deny a petition for inter partes review. Here, the PTAB denied the petition – finding that "the record … does not demonstrate that there is a reasonable likelihood that Petitioner would prevail with respect to at least one challenged claim. We consequently deny the petition and decline to institute an inter partes review of the '051 patent." File Attachment: PTABDecision.pdf (438 KB).
The decision is somewhat interesting – the basic failure of the petition was that the petitioner gave no reason why someone of skill in the art would combine the elements taught by the various references (other than the fact that they all relate to heart treatments).
The fact that [the three prior art references] all concern human heart repair is not in itself sufficient rationale for making the combination. Many heart repair devices exist. That fact alone would not make it obvious to combine their features. Petitioner must show some reason why a person of ordinary skill in the art would have thought to combine particular available elements of knowledge, as evidenced by the prior art, to reach the claimed invention. See KSR Int'l Co. v. Teleflex, Inc., 550 U.S. 398, 418 (2007). This, the Petitioner has not done. That the references relied upon all relate to human heart repair does not amount to "some articulated reasoning with some rational underpinning to support the legal conclusion of obviousness." See id. (internal quotations omitted).
At this point, Heart Failure can ask the Board to review its decision. However, under 35 U.S.C. §314, the decision is "nonappealable."
I corresponded with CardioKinetix outside counsel Rick Shoop (ShayGlen) who indicated that the defense was fairly inexpensive (compared with patent litigation) at roughly three times more costly than filing an ex parte appeal to the PTAB.  
* Note –  A reader asked if I meant to use "bully club" or instead the more common "billy club."  My intent here was to focus on the potential for bullying and so I thought the term fit.