By Dennis Crouch

In a prior post, I included a chart showing a recent rise in the use of the functional claim phrase "configured to." See Crouch, What Does it Mean for a Device to be "Configured To" Perform a Particular Function, Patently-O (2014). Here, I have updated the data to also add information regarding claims that include the term "means" (the traditional primary trigger for §112(f) analysis) and those that include the phrase "for …ing" (such as "for calculating") without reciting the term "means." I see these chosen categories as indicia of the existence of functional claim elements. However, I recognize that my rigid automated approach is both somewhat under and over inclusive. However, the results (below) are so dramatic that it is difficult to argue that nothing is going on here. Complicating this, a legal definition of functional claim language (outside the scope of §112(6)) is difficult to nail down. Working a bit on this definition, the Supreme Court in 1946 wrote that a "claim which describes the most crucial element in a 'new' combination in terms of what it will do, rather than in terms of its own physical characteristics or its arrangement in the new combination, is invalid as a violation of [the indefiniteness requirement]." Halliburton v. Walker, 329 U.S. 1 (1946).
For the analysis here, I first downloaded the text of all U.S. utility patents issued between 1976 and 2014. I then wrote a script that parses through the independent claims of each patent to determine whether any of the aforementioned phrases are found within those claims. Because the worry with functional claim elements tend to be their over breadth, I looked only at independent claims rather than the naturally more narrow dependent claims. With those results in-hand, I then calculated the frequency-of-appearance in a week-by-week time series. The chart is slightly smoothed by reporting a 10-week moving average – that smoothing largely imperceptible because the time series encompasses almost 2,000 weeks of data). A nice element of using the entire population of utility patents is that there is no need to include significance levels or confidence intervals.
The basic results are apparent from the chart below. The use of traditional Means-Plus-Function (MPF) language in patent claims has dropped dramatically since the early 1990's and continues to drop. (Blue data series). In the 1980's most patents included an independent claim written in MPF form. Today, that frequency is less than 10%. The decline in the use of MPF claim language corresponds roughly with a set of cases that cabined-in the construed scope of MPF elements and also bolstered the doctrine that an MPF claim is invalid if the patent document lacks an affirmative statement showing a structure that performs the claimed function. See In re Donaldson Co., 16 F.3d 1189 (Fed. Cir. 1994) (en banc). Although patentees have eschewed the statutory sanctioned MPF format, they have not given up the use of functional claim limitations. In the chart below, I pick up on two particular common approach. One approach has been to replace the term "means for" with a more structural noun such as "circuit for" or "instructions for." Those types of claim elements are shown in the green data series below and show a rise in that claim format in the 1990s that matches the decline in MPF usage. The red data series shows the use of "configured to/for" language in independent claims as discussed in the prior essay.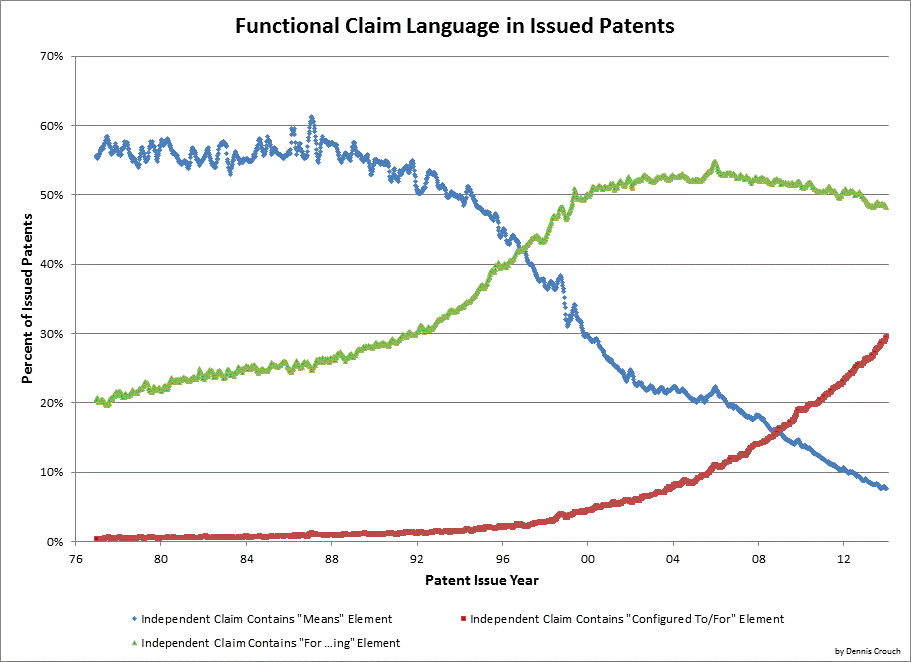 As patentees moved away from the use of means-plus-function claim language, they could have conceivably chosen either to focus more particularly on structural elements or instead to continue with an approach of claiming according to the function of the unspecified structure. The chart above graphically suggests that patentees have chosen the latter – replacing means-plus-function claim elements with functional claim elements carefully designed to avoid the statutory trap of §112(6).
The sheer number of patents at issue here is impressive. To be clear, we are talking about millions of patents that are caught-up in this transition. Thus, if we think that it's a problem to have functional claim limits written outside of the safeguards of §112(6), then what we have here is a big problem.