By Dennis Crouch

The name "micro entity" suggests something quite small. In the patent law world, this generally means that the inventor / applicant income level over the past several years is less than around $150,000 and that the inventor is not a frequent applicant. A patent applicant who qualifies will receive a 75% discount on patent office fees. That discount is designed to make it easier for small entities to access the patent system and thus encourage innovation amongst this group of potentially highly-innovative but not yet financially successful individuals. The micro entity rules include a major loophole as well – university owned patent applicants can also qualify for the fee-reduction. My alma-mater (Princeton University) has an $18 billion endowment and is far from being micro in any non-astronomic sense of the word. Still, under the rules, Princeton-owned applications would qualify for micro entity status. See also, Dennis Crouch, Micro Entity Early Stats, Patently-O (2014).
I looked through the records of 60 recently issued patents that claim micro entity status. The results are interesting: 17% are assigned to Universities; 1% to Companies; and the remaining 82% have no assignee or are assigned to an individual. (Note, the one patent in the group assigned to an individual involves a co-invented patent that is assigned to one of the co-inventors.) I had expected a higher percentage of university-owned patents in this group.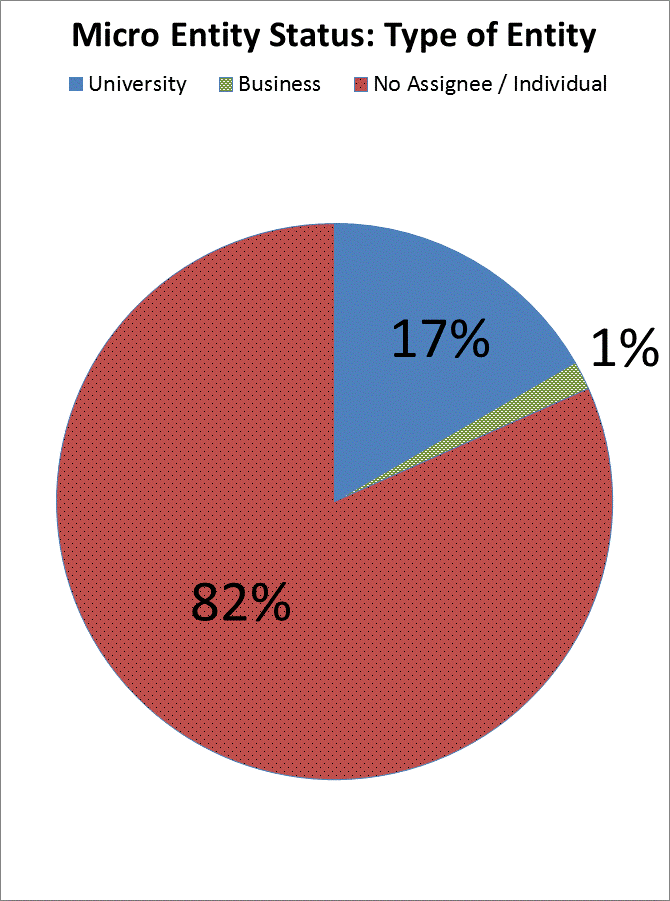 The process for seeking Micro Entity status is quite simply and appears to merely involve signing a one-page form. (SB-15A and SB-15B). Some caution should be applied since there is some precedent for finding patents unenforceable based upon improperly paying a small-entity fee when a large-entity fee was actually due.
I should note here that all of the patents in my sample were filed prior to the March 2013 institution of micro-entity fees. Thus, these patents began paying small-entity fees and then converted over to micro-entity status prior to issuance.