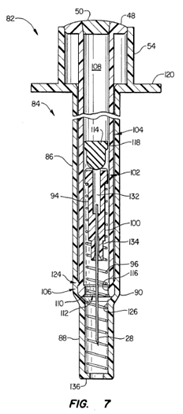 By Dennis Crouch

Retractable Tech v. Becton Dickinson and Co (Fed. Cir. 2014)
This patent infringement lawsuit is now in its seventh year. The case revolves around a set of patents owned by Retractable that cover a form of retractable safety-syringe. The original jury found that BDs 1mL and 3mL syringes both infringe with the result of $5 million for past damages and the district court ordered a permanent injunction. In the 2011 appeal, the Federal Circuit altered that claim construction and concluded that there was no infringement of the 3mL devices. On remand, the district court then altered the injunction (to only focus on the 1mL device). However, the district court refused to reconsider the damage award – finding that the damage award was subject to a final judgment that had not been directly appealed nor the subject of an order for reconsideration from the prior appeal. Now, the Federal Circuit affirms that judgment – finding that the lower court properly precluded BD from re-raising the damages issue on remand. This case is a bit of a civil procedure oddity. The jury awarded damages for infringement based on a finding that two different products infringe and final judgment was entered. The appellate court then partially reversed the decision – finding that only one of the products infringed. But, the infringer is not able to get the damage award modified.
In Verizon Services v. Vonage, 503 F.3d 1295 (Fed. Cir 2007), the court wrote that "where the jury rendered a single verdict on damages, without breaking down the damages attributable to each patent, the normal rule would require a new trial as to damages." That case appears on-point to the present situation. However, both the district court and appellate panel have disagreed – finding that a district court is not permitted "to revisit damages in the absence of a reversal or remand of a damages determination. . . . [T]here is no 'normal rule' giving district courts the authority to regularly revisit or recalculate damages that fall within our mandate."
Conceding that the rule here is very much a technicality, the court writes that the whole case outcome would be different had BD included one additional phrase in its prior appeal brief that requested a remand on the damages issue. Although a technicality, it appears that the decision not to include that phrase was a strategic decision made by BD's appellate attorneys from WilmerHale and not any sort of oversight. In particular, BD wanted (and asked for) a bigger outcome (complete reversal or new trial) rather than simply a reduction in the damage award. I don't believe that anyone will go home feeling sorry for BD.
This decision here was written by Judge Linn and joined by Judge Lourie. Judge Rader had been on the original panel but has now retired and thus did not participate in the final determination.